Kitchen is one of the essential areas in a house. Of course, it is a space where the family prepares food, but it's much more. It is a place where families strengthen bonds and relationships.
For these reasons, the kitchen must stay clean at all times. If you want your kitchen to sparkle every time, there are some tools you must always have.
This article will look at 10 critical tools you should have all the time around your kitchen to keep it clean.
10 Important Kitchen Tools You Should Always Have
Want to add a fresh look to your kitchen every time? Here are some tools you should have:
1. Scrubbing Brush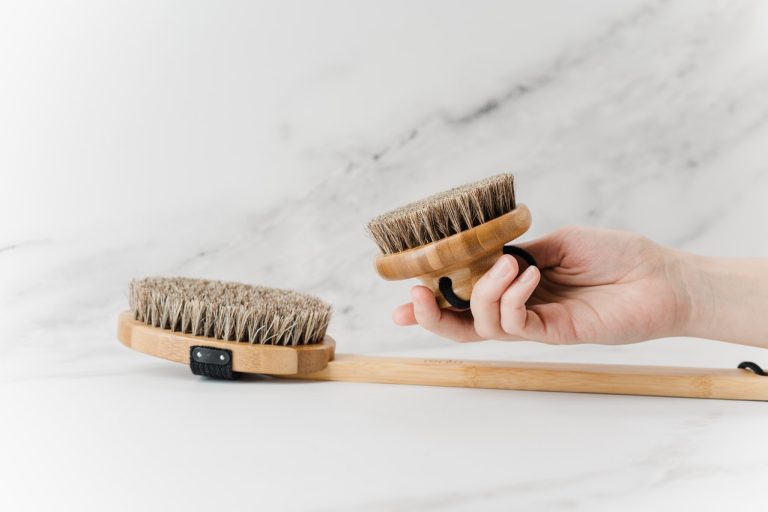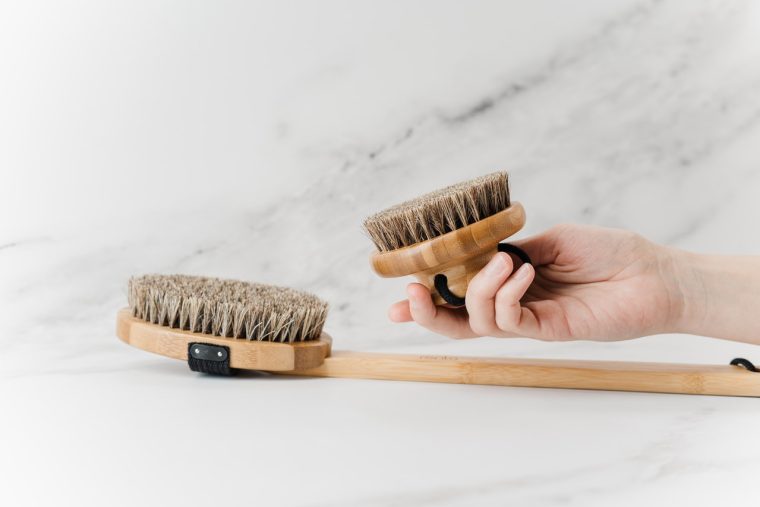 A scrubbing brush (or scrub brush) is a brush with hard bristles that you use to clean floors. This is your best option if you have ceramic and porcelain tile floors in your kitchen.
Some people use their kitchen scrubbing brush for other rooms in the house. This is wrong and unhealthy. If you want a special scrub brush for your kitchen alone, don't use it elsewhere.
Different types of scrub brush (some with handles) could work well for you. You can buy one from your grocery or department store.
Of course, outsourcing these tasks could make it even easier for you. With pressure washing and window cleaning services, Laborpanes provides outstanding services on wide range of locations, you can rest easy knowing your windows are always clean as you save time to do other things.
2. Scouring Pads
Do you have any pots or pans in your house with stubborn stains? Then you should consider having some scouring pads in your kitchen.
A scouring pad or scourer is a small pad of metal or plastic mesh used to clean pots and pans. You can use scourers to clean many abrasive surfaces, but don't use them on non-stick surfaces. This is because they can strip away the coating on those surfaces.
Whether you choose the ones with metal mesh or sponge, scourers are essential cleaning tools in your kitchen.
3. Silicone Kitchen Scrubber
Silicone kitchen scrubbers are sponges used to wash china and other dishes. They have soft silicone bristles that you can use to remove food stuck on your dishes. They are very comfortable and difficult to slip out of your wet palms.
Silicone brushes are the best for non-stick dishes because they are scratch-free.
You can also use silicone brushes to wash cars, baths, and other surfaces that need it. However, you should get a special one for your kitchen alone.
4. Dish Cloths or Dish Towels
As the name suggests, dish cloths are materials used for wiping dishes in the kitchen. They are usually made of cotton, microfiber, terry cloth, or flour sack. When you finish with the dishes, you can use dish cloths to wipe them before putting them in their place.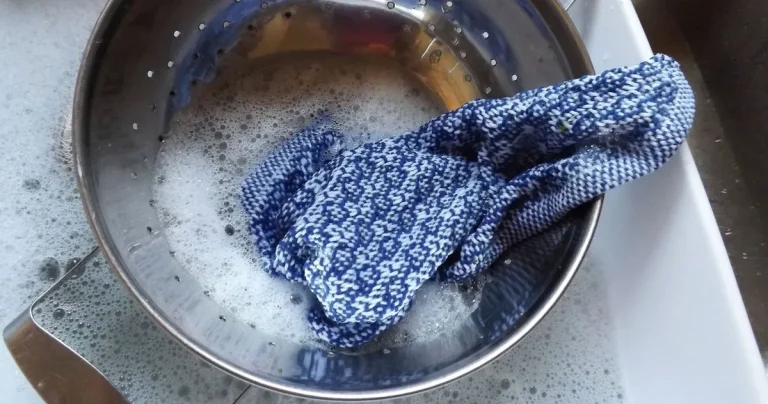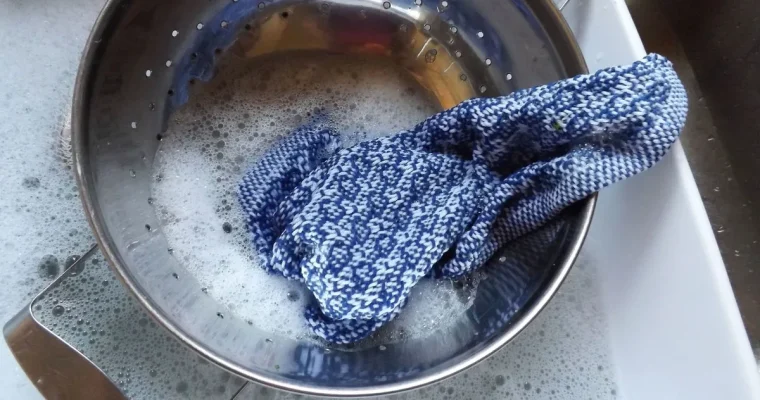 There is a common trend of people using dish towels to wipe their hands or dirty kitchen counters. This is unhygienic. Dish towels do not work as napkins and should not be used that way.
In your kitchen, it helps to get dish towels for your dishes and separate napkins to wipe your kitchen counter.
5. Spin Mops
Before we get to a time when robots clean your kitchen floors, you must do it yourself. One of the best ways to do it is by using a spin mop.
Spin mops are not your regular string mops. Instead, they have triangular or circular microfiber mop heads that absorb moisture quickly. Regular string mops don't absorb as well, and they push spills around.
Spin mops come with a bucket that can hold soapy water for cleaning.
6. Spray cleaner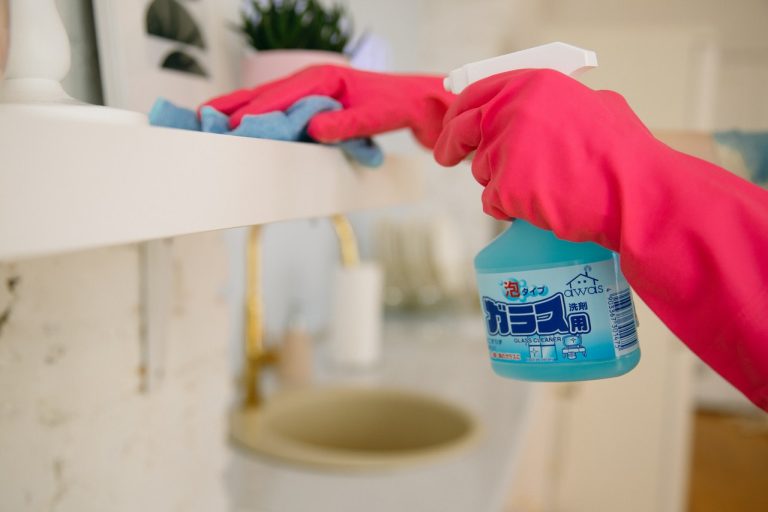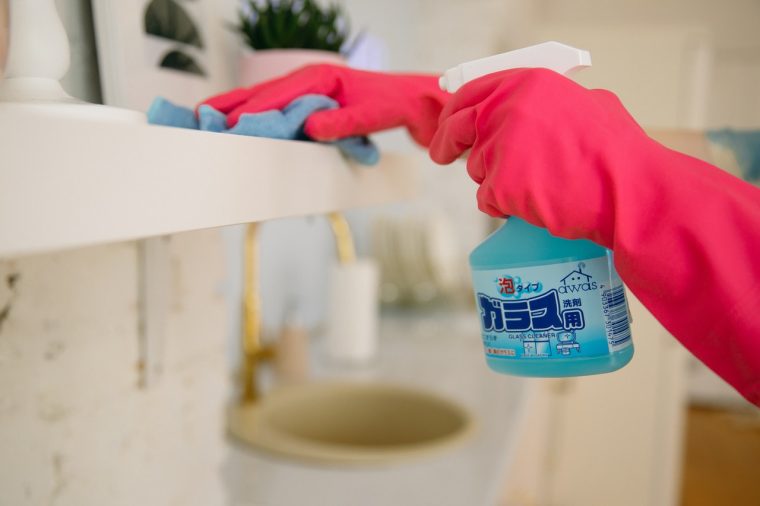 Spray cleaners are anti-bacterial fluids found in spray bottles and used for cleaning kitchen surfaces. You can spray the fluid on your countertops or windows and clean them with a soft, clean cloth.
Buy a spray cleaner if you can't afford commercial window washing services. They are easy to use, and the right ones don't need much scrubbing to cut through grease.
Many spray cleaners come in all-purpose cleaner containers. You can use these for your bathrooms, painted walls, and windows, etc.
7. Kitchen Gloves
Kitchen gloves help protect your hands when you clean, so they don't get irritated. Preventing your hands from getting irritated is vital because it allows you to clean more.
The best kitchen gloves are latex which prevent your hands from getting wet. They also have a cotton lining that makes it easy for you to remove them.
Get a pair and make kitchen cleaning easier for yourself.
8. Trash Cans
Trash cans are important to maintain cleanliness in your kitchen. You don't want pieces of waste food lying around and bringing in insects.
Pedal bins are the best because you don't have to touch the lid every time you want to dispose of waste. You can also get a motion sensor bin if you have extra cash.
Ensure you use disposable garbage bags in your bins and small nylon bags to wrap trash before throwing them in.
9. Sink Caddy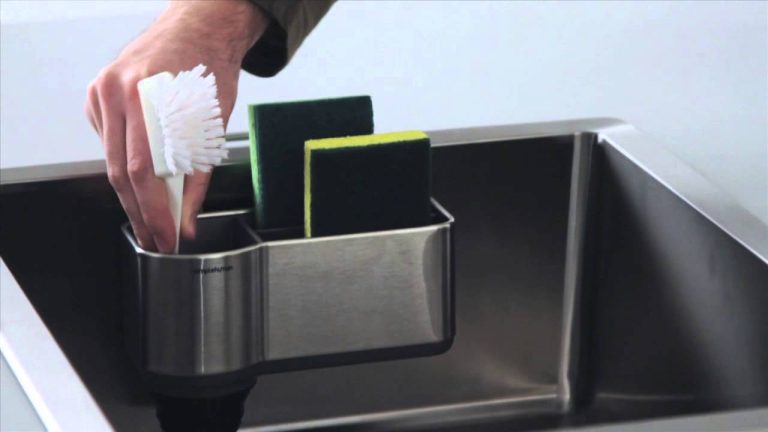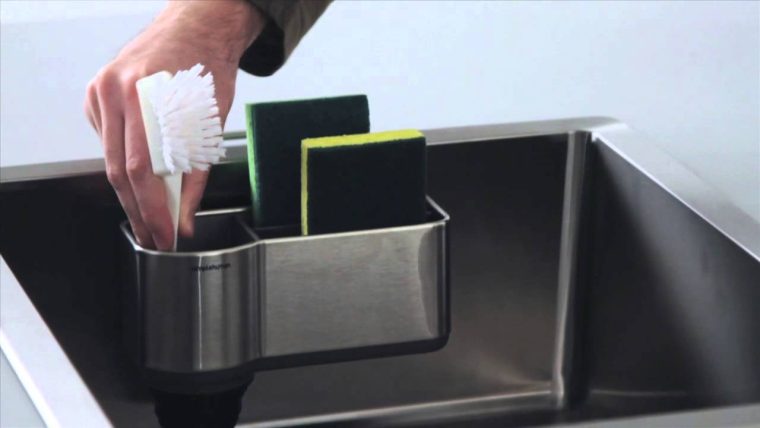 A sink caddy is an easy way to instantly make your kitchen look more organized. This equipment keeps your sponges, dish towels, and other cleaning tools in the kitchen.
It is an important tool because it prevents water from dripping all over the kitchen. It also helps to keep the sponges dry in between uses.
10. Broom and Dustpan
Brooms and dustpans help clean off veggie peels and food leftovers on the floor. They are must-haves in your kitchen. Without them, your kitchen would always be messy and impossible to work in.
You should buy a special broom and dustpan for your kitchen. Don't share it with the other rooms in the house.
Conclusion
If you want a sparkling kitchen at all times, these tools are non-negotiable. Also, most of these tools are not transferable and must be used in the kitchen alone. Don't use them for multiple tasks all around the house.
There are many other tools that ensure the overall cleanliness and hygiene of the kitchen, but these are a good start. Get them today, and you won't have trouble keeping your kitchen tidy.