An outdoor kitchen is a space outside the house or apartment where we cook, prepare meals, eat, and serve, in other words, a great place to enjoy spending time outside with your family and friends. The biggest convenience is definitely the fact that we can clean up very easily afterward, which is a great option when you're having over a bunch of friends. The second biggest convenience is that the smells created during cooking spread outside, that is, they stay outside the house.
As for the appliances and features, it can have one or more cooking areas such as a hot plate, a grill, or even a pizza oven or bread oven, depending on your preferences. Many would think that having an outdoor kitchen with so many appliances is expensive, but today there are tons of great deals found online, you can utilize to combine everything in a way that fits your budget. Visit this site to find affordable appliances.
This article will give you a couple of suggestions on how to equip your outdoor kitchen with appliances and features. But, first things first, you need to decide where it will be placed, in order to know how to equip it most functionally.
The balcony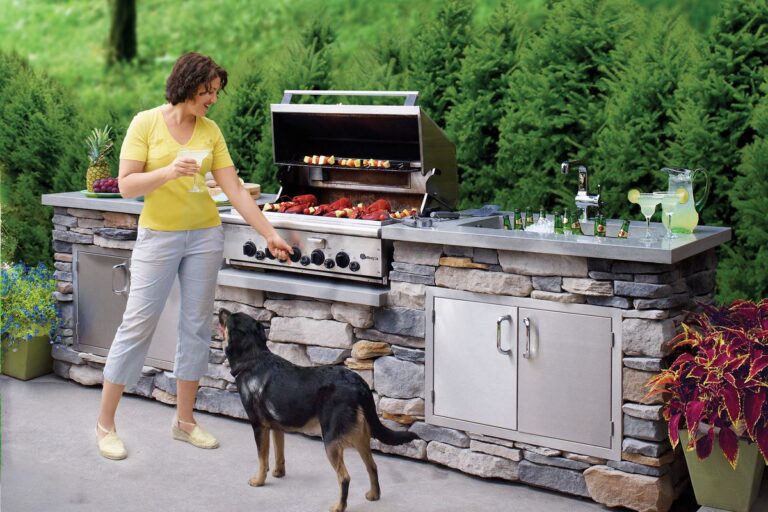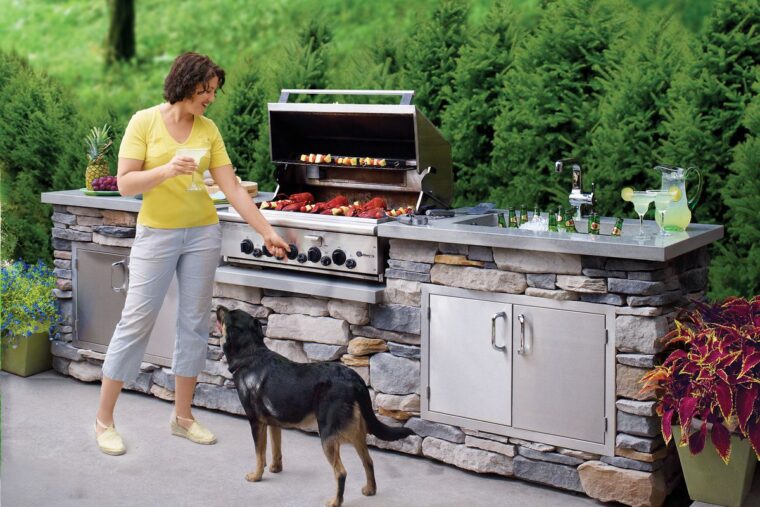 If you have enough space on the balcony, you can supplement it with a small outdoor kitchen, which you can use all year round. With a kitchen on the balcony, you will have a green oasis in the middle of the city that invites you to enjoy relaxing moments, and if you choose resistant and waterproof materials, even when it rains.
The terrace
You will add a completely new value to the terrace next to the house or on the roof if you install an outdoor kitchen. It will become an even more attractive place to socialize, and at the same time you will get rid of unpleasant kitchen smells in the apartment, while in the summer you will prevent additional heating of the interior, which occurs during cooking.
The garden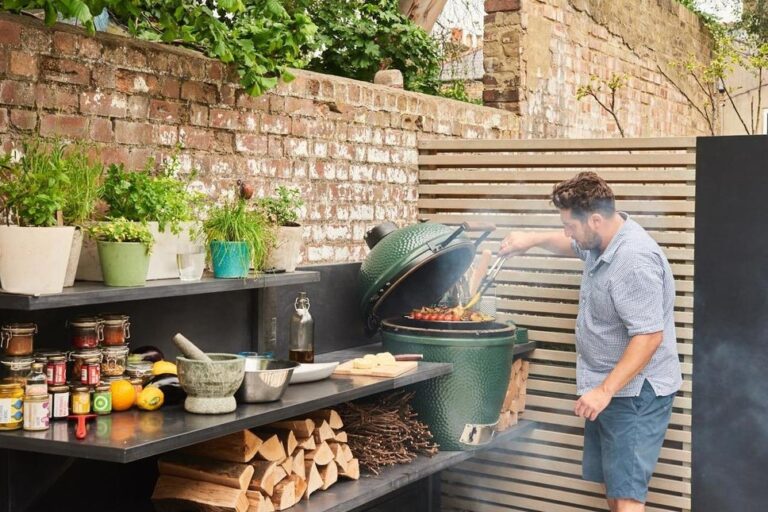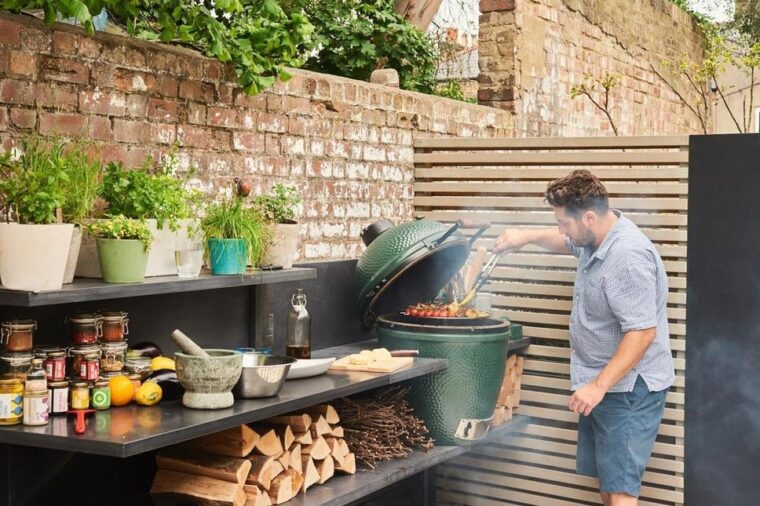 If you are installing the kitchen outdoors, be careful not to place it in front of or near the windows and doors of your home or your neighbors' homes. Make sure that the path between the indoor and outdoor kitchen is short and unobstructed. Consider which direction the wind is blowing the smoke. Make sure the kitchen has enough shade and place it where you can run electricity, gas, and plumbing.
Once you've decided on where to place it, there is a couple of option for you to choose from regarding the type of kitchen, and the appliances it contains. The market is full of options, let's take a look at what is at your disposal.
Prefabricated (factory-made) ones in a set
These are nothing more than outdoor kitchen assemblies that can be purchased in a store. They are usually equipped with a grill, worktops, or storage counters, but often include kitchen accessories such as storage units and a fridge/freezer, which ensure that the outdoor kitchen is always ready. Many manufacturers offer a choice of different cooking options (barbecue, electric hob, gas hob, bread oven), different materials, colors, and patterns of worktops, and different materials for outdoor kitchen elements.
Even though they are prefabricated, nothing is, as they say, written in stone, and you can choose what combination of appliances fits your vision, and what materials you want. Better quality materials and non-standard designs, of course, should be paid for additionally.
Prefabricated (factory-made) modular outdoor kitchen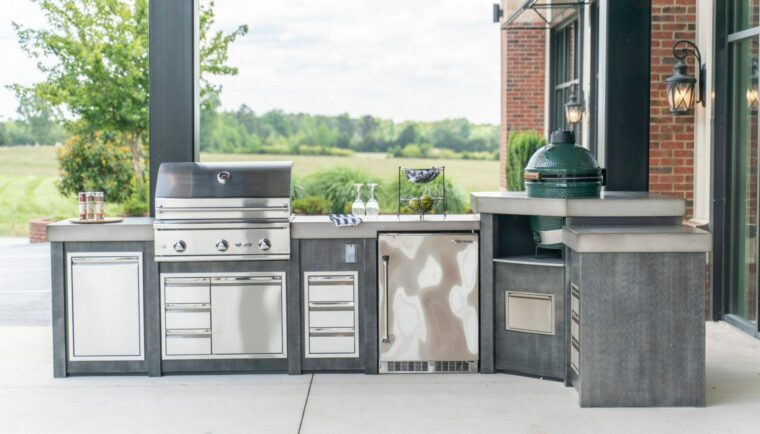 Modular outdoor kitchens are similar in principle to indoor modular kitchens, however, they are made of materials that can defy weather factors. Each part of a typical outdoor kitchen has a pre-made modular shape, and individual elements can be mounted in the kitchen in different ways according to your needs and wishes. Some modular outdoor kitchens are actually individual kitchen sets that are simply placed next to each other and together form a kitchen area. One module can contain a grill, another a sink or a bar, and a third, for example, a refrigerator. More advanced modular kitchens are assembled, i.e. completed, on-site, where the kitchen elements are additionally walled with stone or brick and thus connected into a cohesive whole.
Brick outdoor kitchens to order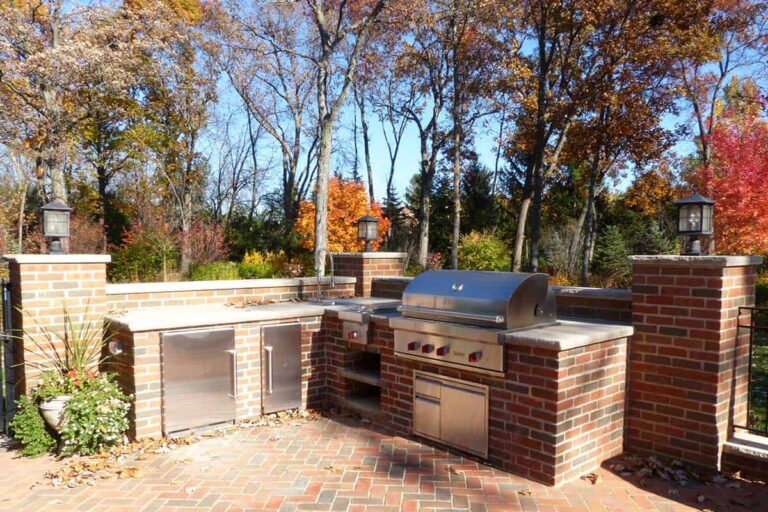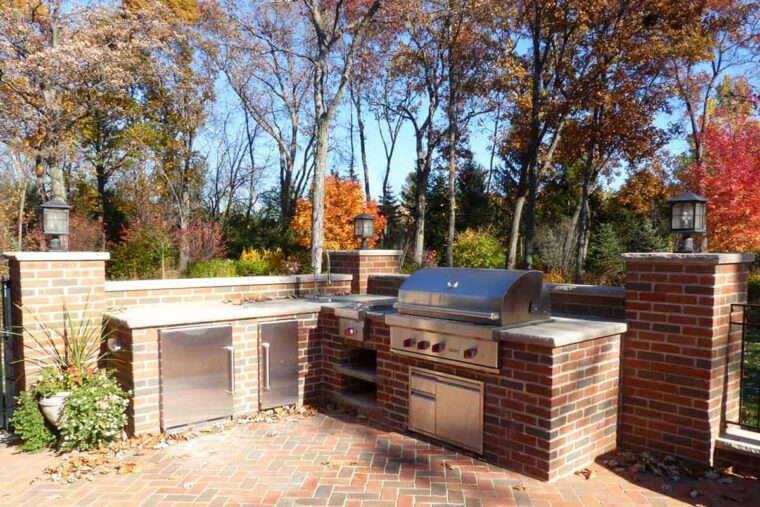 Built-in outdoor kitchens are the most advanced form of outdoor kitchens. They are made on-site by a company that specialized in making outdoor kitchens. They can be made of materials that match the existing materials of the terrace/balcony and other elements of the garden. Built-in and custom-made outdoor kitchens are not limited to individual elements but can be made in non-standard dimensions. They can include special elements such as a pool bar, night lighting or built-in pergolas, and other forms of shading that prefab kitchens are not usually equipped with.
Your choice will also depend on your budget as well as how much space you can allocate for a commodity like an outdoor kitchen. As we have mentioned earlier, these things are no longer a luxury, and almost anyone is able to afford them, with smart budgeting. So, think about whether you actually need tons of appliances. Maybe a barbecue, refrigerator, and oven will work ok. Or just a barbecue with a small fridge. Again, available space and budget will determine this. In addition to the costs for the kitchen and the appliances, you should also take into account the costs of connecting the whole thing to water, electricity, and gas supply in the place where the kitchen will be installed.
Your final option with equipping would be to go for second-hand ones. These are becoming more and more popular because there is some really quality stuff you can find if you're really lucky. This is also an option for those who are struggling with the budget. Buying a second-hand one, and maybe tightening in up with some DIY tricks is better than giving up the whole idea of having an outdoor kitchen.
Options are plenty, it is up to you to decide which one suits you best.