It's common to walk into a kitchen and see appliances everywhere. Indeed, if there are no appliances, you can't call it a kitchen. However, your cooking space should look appealing, so the consensus is to organize your appliances and not leave them lying anywhere.
Better yet, you can give your kitchen a cleaner look with an appliance garage pop-up lift. It's a device you'll particularly appreciate if you're a fan of minimalist designs, as it ensures an uncluttered cooking space. We'll throw more light on how to go about installing one and the benefits it brings as you read on.
Operation of an Appliance Garage Pop-Up
You can hide your kitchen appliances with a garage pop-up installed in a cabinet or cupboard. The appliances stay out of sight as you walk into your cooking area. But when you need to use them, you activate the pop-up to reveal them. The best part is that you can fit almost any appliance in your garage pop-up, depending on the available space.
Generally, you can refer to an appliance garage pop-up as a pop-up storage lift. You can install one if you have a cabinet or cupboard with enough space to contain the garage. Mainly, the pop-up lift stays at the bottom of the cabinet or cupboard, attached to a motorized system.
Once you activate the system — with a remote or a button — the garage slides up, and you get access to your appliances. After using them, you use your remote or button, and the garage slides into the cabinet or cupboard. Considering the working mechanism, it's clear that the motorized system plays a critical role. Let's discuss it in detail.
Appliance Garage Pop-Up Motorized System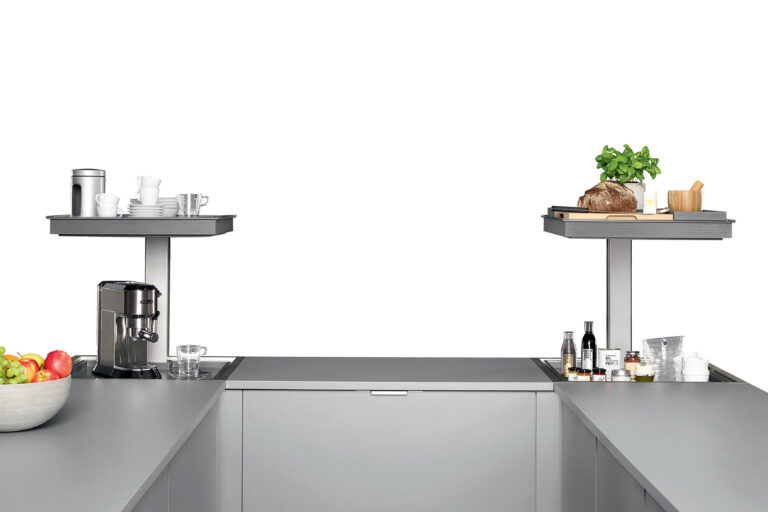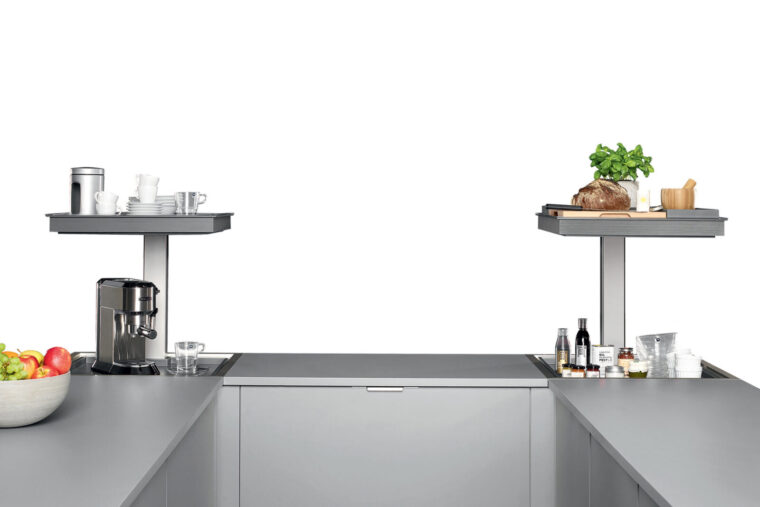 The pop-up motorized system is basically what lifts and lowers the garage, and it's usually controlled using a linear actuator. It's possible to operate a garage pop-up with other lift mechanisms that don't involve linear motion devices. But, if you want an optimal operation, linear actuators are non-negotiable.
Since it's a garage pop-up, you'll install the linear actuator at the bottom of the cabinet or cupboard. Suppose it was a drop-down garage lift — which is also a viable option — you'll mount the actuator at the top. Then, you connect the electric motor to a power source and attach the lead screw and nut.
With the setup complete, here's how the appliance garage pop-up will work:
You turn on the electric motor using a switch or remote control.
The motor activates the lead screw to rotate, creating rotary motion.
The actuator nut moves along the lead screw to create linear motion.
The lift pushes the garage upward to reveal your appliances.
Linear actuators from firgelliauto.com are an advantage for appliance garage pop-ups, like they are for many other home automation applications. Impressively, you can adjust the actuator height depending on the type of appliances the garage houses. Customizing the pop-up speed is also possible, but for first-rate performance, consider getting a smart actuator. You can program them to operate at certain positions.
Considerations for Appliance Garage Pop-up Lift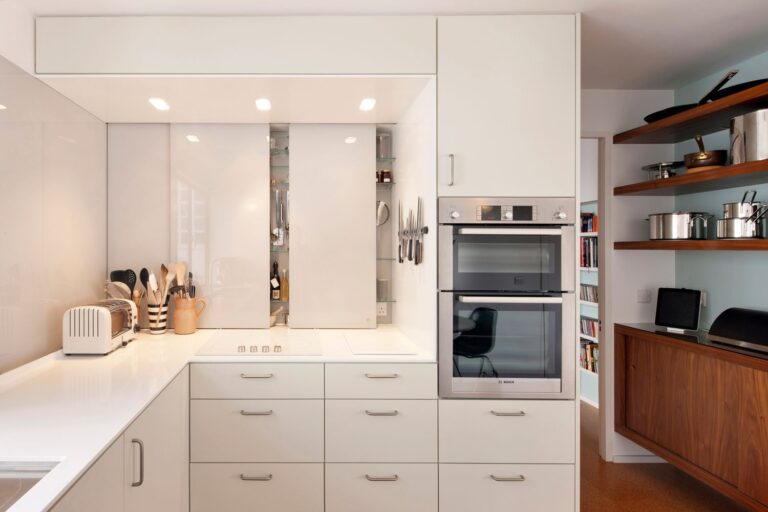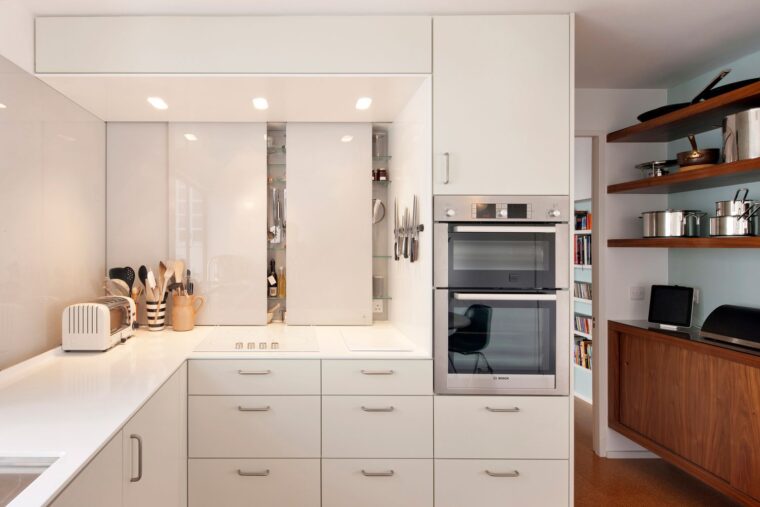 You'll most likely place multiple appliances in your garage pop-up lift. As a result, the best actuator type is one that's strudy and durable enough to withstand the weight. Above all, space, motion, and control are the most critical factors to consider.
Space
If you plan to install your appliance garage pop-up lift in a large cabinet, you also plan to house many electronics. In that case, the best linear actuator is one with a high carrying capacity. Fortunately, linear actuators exist in varying force levels, from as low as 15 lbs to as high as 2,2000 lbs. For instance, you can consider super-duty actuators if you have a large appliance garage. But if it's the opposite, a mini-track motion device would do.
Motion
How fast or slow should your appliance pop up from the cabinet? That's what you're considering here. In a way, this also relates to the cabinet size. If the cabinet is deep, then you'll need the garage to slide up faster than if it was shallow. Linear actuators move relatively fast, and some can reach up to 12 inches per second. However, it's best to go for a motion device that you can customize to travel at different speed settings.
Control
You have two main options when it comes to controlling a linear actuator to activate an appliance garage pop-up lift: remote or switch. Ultimately, it's a question of convenience, so pick a control option you'll find easier to use. Out of the two, that should be remote control. But if you're considering other options, then you can check out a sensor-controller linear actuator.
Kitchen Appliances That Can Be Hidden Using an Appliance Popup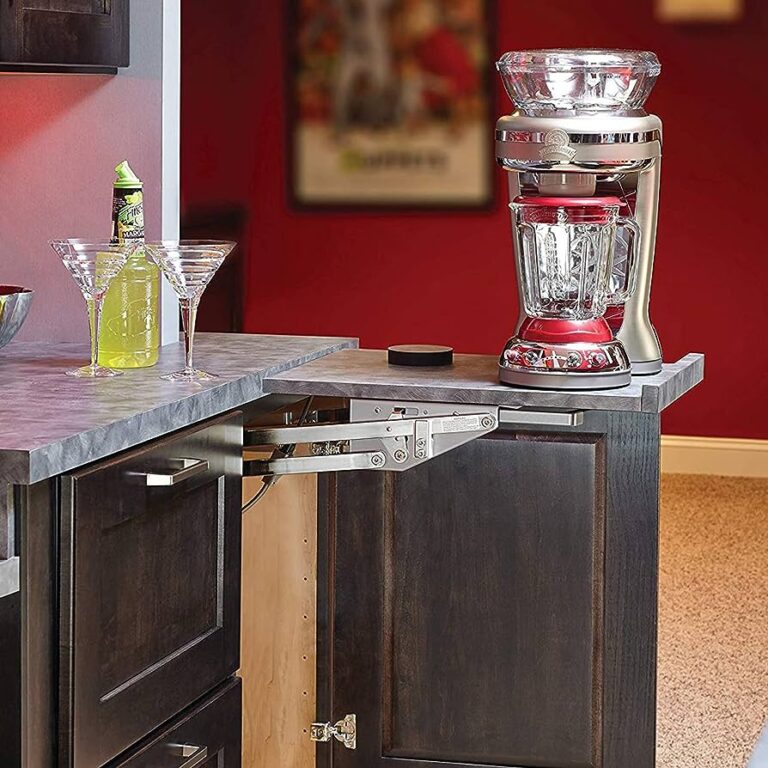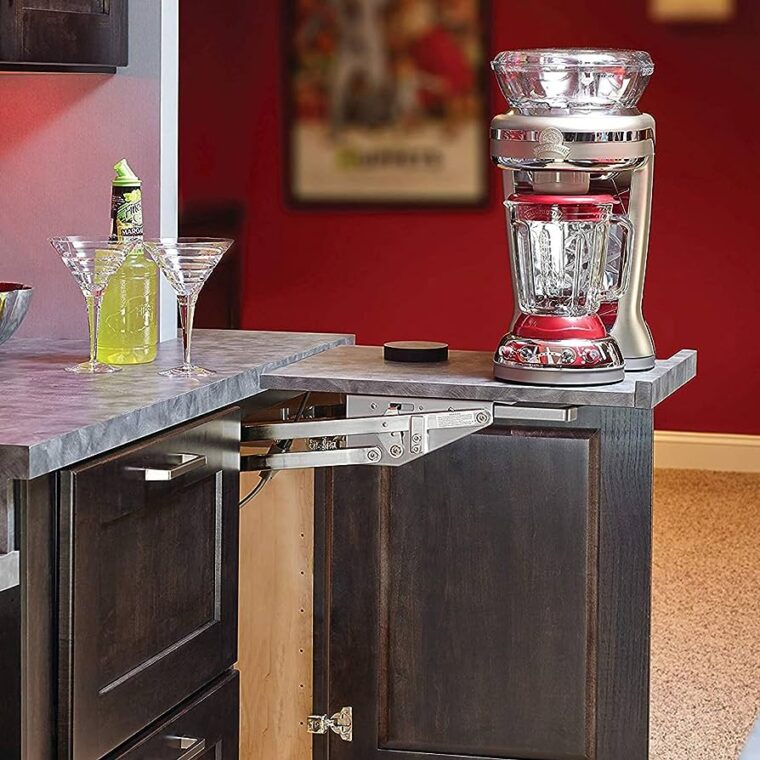 If there's enough space, you can place any appliance in your pop-up lift cabinet. The issue, however, is that you may overwork the motorized system and linear actuator if you add heavy electronics. In that view, below are some appliances we recommend hiding using a pop-up lift.
Arguably, the above are appliances you use often — every day and perhaps every few hours. So, why hide them? Well, keeping them hidden with an appliance garage pop-up lift doesn't mean you can't access them easily. The lift can slide up in seconds to give you access to the electronics you want. Besides that, the pop-up lift benefits you and your appliances in many ways.
Conclusion
A smart kitchen goes a long way in simplifying your everyday life, and you can have that easily with an appliance pop-up lift. Such a lift helps you save space, makes your kitchen more livable, and adds elegance and style. Of course, it also prolongs the lifespan of your appliances as they're not easily damaged when hidden.
However, your appliance garage pop-up will only serve if you use the right components. So, pay attention when purchasing the lift, and importantly, ensure to get a suitable linear actuator.