India is a vast country and is predominantly known for its several types of flavorful cuisines from all over India. Every region has its own uniqueness in the form of culture, population, geography, language, climate, and especially the crops which are grown throughout the seasons- which play a very crucial role in the diversity between the two and this defining feature is the specialty of the Indian Cuisine.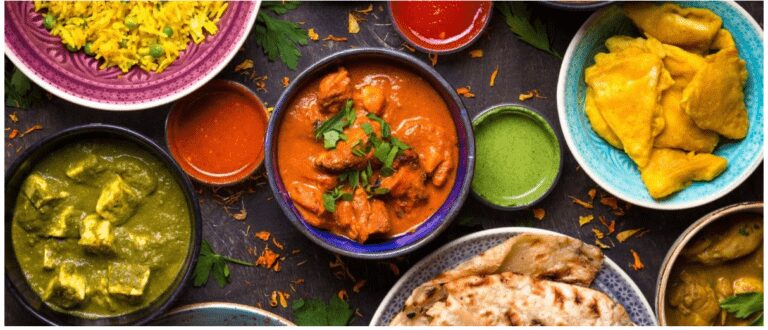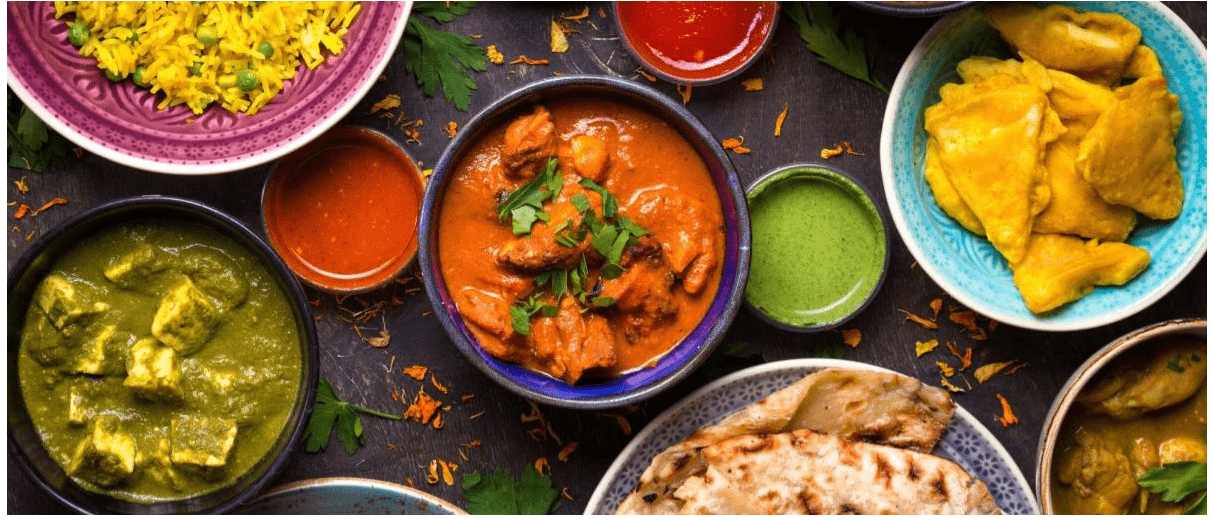 And as far as Indian food is concerned, it's a broad constellation of culinary traditions from all over the Asian continent. Though they are prepared on the same flavor foundations. However, the lip-smacking dishes are broadly classified between North and South Indian Cuisine.
As the name says it all- both the dishes differ in abundance from one other and this makes them even more unique and tempting from one other.
So which one does you like the most? Is it north Indian or south Indian?
Are you ready to discover what those differences really are?
North Indian Food–
North Indian cuisine is composed of rich curries and thick sauces especially paired with chapatti/rotis/bread. Some famous and delicious North Indian Dishes include- Aalo gobi, bhindi masala, malai kofta, kachori, chicken tikka, pav bhaji, Kadai paneer, biryani, Aalo Tikki chaat, and the list of these irresistible mouth- watery food is never-ending. And North India is one of those regions where the food incredibly varies from the roadside snacks to the lip-smacking main course dishes.
When it comes to the dishes of North India- the overall cuisine is comprised of all the North Indian states namely- Jammu and Kashmir, Rajasthan, Himachal Pradesh, Uttar Pradesh, Uttarakhand, Chandigarh, Punjab, and Haryana. And the cuisines which constitute together to form the North Indian Cuisine are Himachali cuisine from Himachal Pradesh, Awadhi cuisine from Uttar Pradesh, Kashmiri cuisine of Jammu and Kashmir, Mughlai cuisine, Kumauni Cuisine of Uttarakhand, Punjabi Cuisine, Rajasthani cuisine, etc. And they all possess a strong Central Asian influence in their preparations and cooking styles.
South Indian Food–
the South Indian dishes incorporate more coconut milk to their flavor profile of dishes.
And the sauces are generally much thinner as a result.
And curry leaves, lemongrass, and some native fruits are too included in their food. Unlike North Indian Food you will find rice, lentils, or stews instead of rotis/chapattis. Some common luscious South Indian Dishes include- Masala Dosa, upma, chicken 65, sambar, appam, pulihora, Hyderabad biryani, Idli, Dosa, Pongal, and various other alluring dishes broadly fall into this cuisine.
South Indian cuisine consists of both vegetarian and non-vegetarian dishes. And is comprised of cuisine from five southern states- Kerala, Andra Pradesh, Telangana, Tamil Nadu, Karnataka, and Union Territories- Lakshadweep, Pondicherry, Andaman, and the Nicobar Islands.
Talking about the particular state cuisine- Kerala is popularly known for its Malabar cooking which has delicious seafood dishes.
Hyderabad is famous for its luscious Nizami food and Hyderabadi dishes has an adequate amount of dry fruits, nuts, and spices like saffron.
Telangana and Andra Pradesh cuisine offers the vegetable and lentil-based dishes which are the spiciest amongst all. They make the use of chilies and tamarind to give a hot and tangy taste to their dishes.
When it comes to Karnataka, there is a little charm in their dishes.
They use jaggery and palm sugar to make their cuisine less spicy. Whereas Tamil Nadu uses rice as their primary ingredient in their dishes and is comprised of both the vegetarian and non-vegetarian dishes.
Side Dishes–
Indian cuisines are fully loaded with flavors and presentations, and the side meals are also a major part of every meal. The side meals not only complete the main course dishes but they also provide color, balance, and enhance the palates too.
Some common side dishes are-
Papad-
It is a thin crisp made from black gram flour and usually served as a starter or an accompaniment to the main dish.
Raita-
It's one of the basic condiments, prepared from yogurt studded with grated vegetables and ground spices likely cumin, which is very helpful in cooling and tempering heat along with Basmati rice.
Chutneys-
From mint to tamarind, chutneys are the foremost addition to dishes like dosa and samosa and are widely consumed with the main course dishes.
Aachar-
It is generally formed either from fruits or vegetables and thus comprises of different varieties. It brightens up every meal right from rice to yogurt to daal and is usually found at every Indian table.
The most common one is the mango achar, which is highly known for its reliable sweet-sour taste.
Let's get into this-
Grains–
Grains have always been a part of our diets for tens of thousands of years.
They serve as one of the important sources of countless nutrients, including fibers, vitamins, and minerals.
And when we talk about the Northern region of India, wheat is grown quite extensively that's why bread such as naan and roti are more common in this region, whereas rice and lentils are highly consumed in southern Indian food and they act as a complete protein source in the meals.


Fig-2- https://www.masterclass.com/articles/all-about-indian-cuisine-the-most-popular-dishes-and-where-to-start#what-are-the-common-ingredients-and-flavors-in-indian-cuisine
Meat–
Meat is often regarded as the complete package of nutrients, proteins, vitamins, and fatty acids and it is always beneficial to add them in your balanced diet.
Now talking about the differences in both the regions- All of the lambs and chicken dishes are mere origination of Northern India.
And since southern India is closer to the sea with an abundance of vegetable crops so the food consumed over there tends to be vegetarian with some seafood.
Dairy–
The Dairy used in both the cuisines differs quite well.
Since both the Northern and Southern Indians consume a good amount of yogurt, but the way the dairy is used in both the cuisines is different. Northern Indians take ghee or butter in most of their dishes while the southern Indians consume coconut milk in place of regular dairy.
The intake of dairy products is beneficial no matter in what form it is taken.
Consumption of dairy products results in various health benefits including improved bone health.
From maintaining your body to providing essential nutrients such as calcium, potassium, vitamin D, and protein.
Spices–
Spices play a very crucial role in making in the foods we consume. They not only bring out the distinctive natural taste but are also used to make the appearance of the food more tempting and authentic. In Northern India, the food tends to be less spicy as the usage of spices usually ranges from mild to moderate whereas on the other side the south Indian dishes are a little spicier than the former.
Prominent Dishes–
As we all are aware of the differences now.
Let's talk about some well-known lip-smacking dishes from both the regions. Since the south Indian dishes are usually based around rice, lentils, and stews so dishes such as dosa ( based om lentil and rice crepe), idli (based on steamed lentil rice cakes), saaru/ rasam (made out of tomato, tamarind, and lentil soup), sambhar/huli (based on spicy lentil and vegetable stew) are amongst the most prominent gradually made up with these ingredients.
On the other hand, the north Indian foods are enriched with breads and curries.
Breads such as naan, rotis, samosas, and curries/gravies such as palak paneer (cheese and spinach), aloo ghobi ( composed of cauliflower and potato) are all included in North Indian dishes.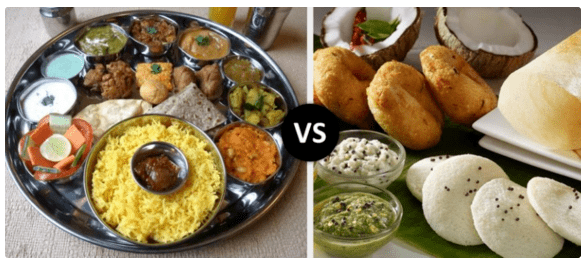 Fig-3- https://www.quora.com/What-is-the-difference-between-North-Indian-cuisine-and-South-Indian-cuisine
Though both the South and North Indian cuisines are very different from each other yet they both have their own charm and importance in the Indian kitchen.
The uniqueness not only lies in individuality but also in their taste, aroma, and preparations.
Moreover, Indian cuisine is the most influenced by foreign cuisines and many recipes have frequently been evolved with the new style on the Indian taste.
So, which one is your favorite?