As any bartender worth their saltshaker will tell you, you're only as good as your equipment.
I don't want to hear people going off about how bartending has evolved to something you don't recognize.
Its become almost an art form, universities offer legitimate courses on how to make it a profession, and its come a long way from what you might remember.
Let me explain.
It all started with the civilization where most things started, the Greeks and Romans.
Oh but those civilizations have gods of alcohol! Dionysus was the son of Zeus and the god of intoxication (through beer and wine because that is essentially all they had at the time).
Bacchus is the Roman version, he is more known as the god of wine.
Consider alcohol to be the Roman and Greek version of CBD, in fact, the father of modern medicine identified numerous medicinal properties of wine, and among Macedonians, being out of control was a sign of masculinity. Alexander the Great's (yes, that one) mom was part of the Dionysian cult, so he was quite popular for his inebriety.
This part of history is actually quite rich, but we must, unfortunately, for the sake (pun intended) of brevity, move on.
This was a time where public drinking houses (pubs, as they are now called) were popular hotspots of socialization.
The local townspeople could have a nice drunk night out or the odd traveller could sip on fine wine as part of his adventure.
In that sense, not much has actually changed, huh?
It was during the Middle Ages that bartending became a full-time job, taverns were tended to by innkeepers or women- who brewed their own mixes.
Around the 15th century, being known as a bartender (which was usually synonymous with bar owner) was a status symbol in England.
As bartenders/owners acquired a lot of property through the money they made and were very much part of the up and coming social class (see: nouveau riche).
Remember when your history books very famously had some version of the line – "the sun didn't set on the British empire?"
yeah, its a great segway into me adding info that the Colonies followed suit. They also began to have taverns and the drinking culture similar to the parent country began.
Now, say hello to Jeremiah "Jerry" Thomas, his book How to Mix Drinks is the Communist Manifesto of the alcohol world. To put it simply, he revolutionized the way bartenders and patrons viewed alcohol.
In fact, he is known as the Father of American Mixology, isn't that just neat?
He learned all he could in New Haven, Connecticut before moving to California during the Gold Rush (we would all do the same, let's just agree).
He took Europe by storm when he dazzled the lords and ladies with his calculated proportions and over the top moves.
Many would describe the bartending tools before Jeremiah's time to be "bare bones", a bartender usually worked with a knife, a reamer for juicing, and the precursor to an old muddler If it was a high-end establishment, they would have had a citrus reamer, because they were fancy like that. Here is when I need to let you know, cocktails were the new kid on the block.
Like most origin stories, this one too is complicated.
To surmise, cocktails were an invention brought out in the American mainstream due to the rapid progress made on the refrigeration front.
After this, the next big thing was Prohibition.
Although President Woodrow Wilson vetoed the National Prohibition Act (or Volstead Act), congress overruled and it was enforced from 1919, all the way through till 1933. The Great Gatsby by F. Scott Fitzgerald is an excellent example of how the drinking culture (and therefore, the bartending business) thrived despite Prohibition or as many would argue, because of it.
Bathtub gins were popular because they were easy to make and the famous gin and tonic was created during this time. The all-metal French (or Parisienne) shaker was also an invention of this time.
Nowadays, bartending is more than just a hobby or a job. It is encouraged as a course in many universities world over and international bartending competitions are a regular feature.
As far as we have come from the time of the greeks, we still have the same tools with respect to the concept and use.
Pros in the industry are still using the same kind of spoons and glasses an innkeeper in the 1700s might have used. With all that being said, let us get into what you came for, bottle openers.
It is a basic tool all bartenders require. It does what it says, opens bottles. It is a simple fulcrum, load, effort mechanism that trumps opening bottles in any other way.
As unsophisticated as it is, it is also widely and cheaply available, this makes it difficult to land on one that works for you.
You should generally keep an eye out for something that isn't too fancy.
Why?
It might get stolen from either your coworker or a drunk patron of course.
Keep it simple, stay away from the bright reds and neons.
Next, look for durability.
You might think most people would have this as a first criterion, they really do not. The nature of the tool makes it widely manufactured, and as a consequence, they are all mostly cheaply made.
Look for quality, it beats looks and price any day. Third, how it feels. It might sound funny but stay with me on this one.
The bottle opener is arguably the most used tool, you are going to be handling a lot, when it's not on your hand, it's in your pockets.
Check if it fits well, does it caught on weird edges and if it sits comfortably in your hand
Discern all the things above before buying one because otherwise, you're inviting a broken bottle and dissatisfied customers. On that note, let us dive in.
Axim USA Premium Cold One Bartender Bottle Opener
https://www.amazon.com/Bartender-Openers-Premium-Cold-Professional/dp/B072F7MG13/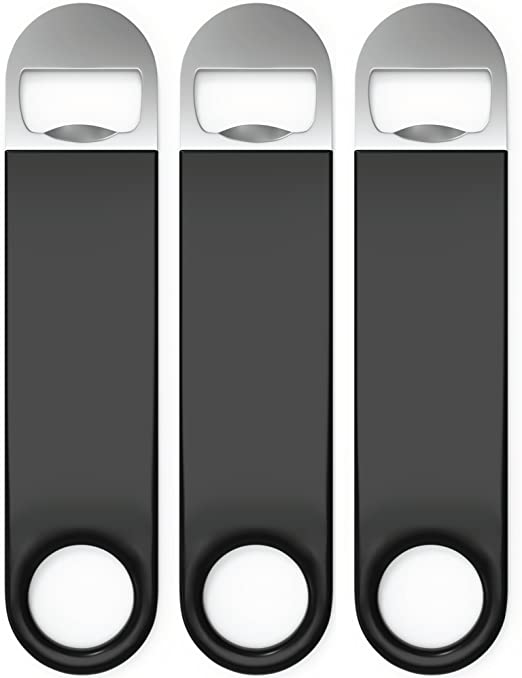 This is the most trusted bottle opener on the biggest shopping site in the world. On almost every criteria, it ranks above a 4.5. This is because Axim has made a durable product which prioritizes quality and customer satisfaction first. Reviews for this bottle opener rave on about how sturdy and well made it is. So confident is the brand about the bottle opener that they offer full refunds to dissatisfied customers. With 7 x 1.6 x 0.1 inches dimensions, it is definitely on the longer side, but this only helps in handling the bottle better before opening it. As it comes in a pack of three, you can either gift it to your co-workers or have a pair to leave at home. This is truly a high quality product for consistent results.
OPNR Bottle Opener with Magnetic Lid Catch
(https://www.amazon.com/OPNR-Bartender-Heavy-Duty-Stainless-Steel-Operation/dp/B07NKSLF4V/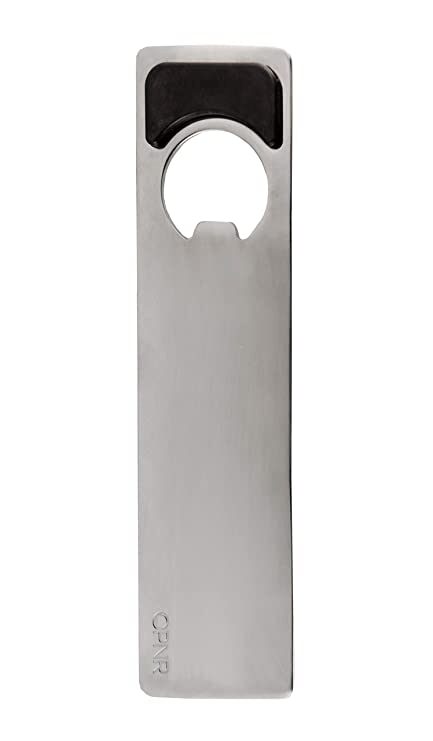 Now, this is heavy duty. OPNR is intuitive in its make. The lid catching feature is definitely a game changer.
You don't have to deal with bottle caps everywhere, the opener literally catches it for you. Because of its magnetic properties, it can also be stuck on any metal surface for easy access.
At 6.1 x 1.6 x 0.2 inches, the OPNR might be too long for some users but the users of the OPNR have nothing but good things to say about it. It definitely has aesthetic value with its sleek design hey, if it ain't broke…