You are using the best griddle to make yourself a delicious breakfast but is the utensil giving a hard time while cleaning it?
Well it is very important for you to make sure that the griddle is cleaned in a proper way after every use. After every attempt of making a sizzling omelette and serving it in your world class griddle it needs a special care after you are done clicking and eating.
The griddle is likely to rust if you leave it all alone and unprotected in the cupboard for a pretty long time.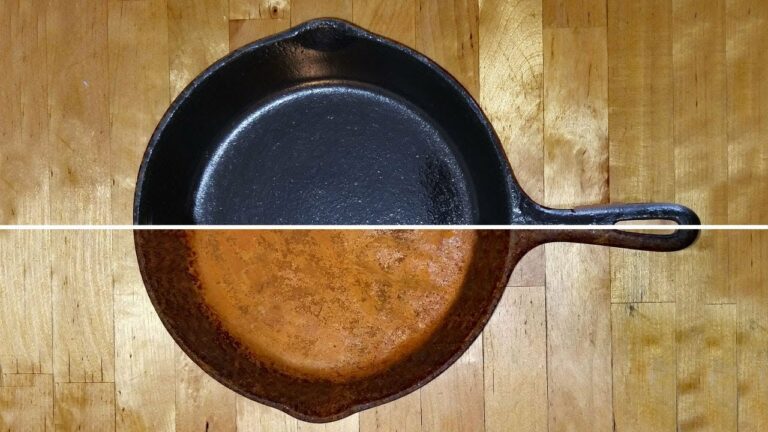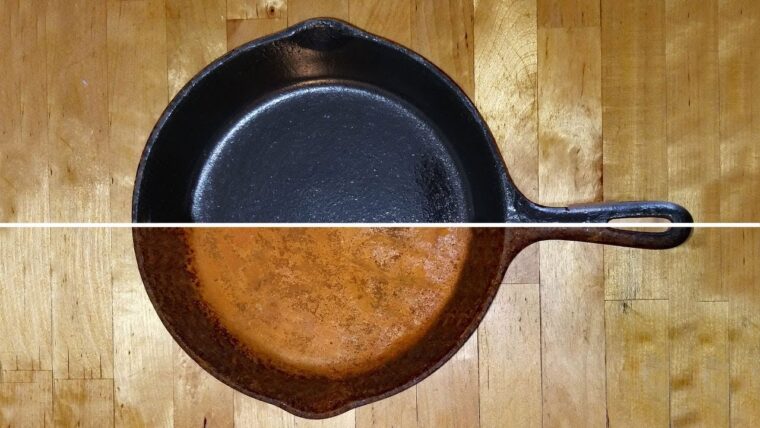 The other utensils just like your frying pans, skillets etc gets hold of rust so do the cast iron griddle. You need to do a proper coating quite often.
All you have to season them after few uses.
While cleaning you cannot be harsh on your utensils, this might result in damaging the coating and might not give you the delicious sizzling omelette the next week.
How to prevent rusting?
Every kitchen needs some solution to avoid the utensils from rusting.
It is very simple, and you won't be needing any special instrument or anything costly to prevent the rust. All you need is to follow a simple step to prevent the rust sitting on your griddle.
Don't just soak your brand-new griddle in the water, leaving it for ours.
Make sure your griddle is dry when you keep it inside your cupboard. If the water is still dripping from your griddle, make sure to clean properly with a dry towel before placing it in some closet. After every use clean it properly to remove any kind of stains or oil.
Make sure to use wooden utensils and not any sharp spatula while cooking any food in the griddle.
So, let's hope on to the main topic on how to clean the griddle. Trust me you will not need any hard work neither its too time consuming.
There are a few steps to remember as well as follow in a daily basis.
Remember the worst for any cast iron implements is the standing water. The water if not dried properly will attract moisture and the cast iron will rust quickly. This will add a metallic taste in your cooked food. So, you need to prevent your cast iron from moisture. Make sure you dry it out properly.
As I have mentioned above, you should not use metal objects on your cast iron, as any cast iron gets a scratch easily. Use blunt or wooden utensils and not anything made up of metal or steel wool.
Most of us use dish detergents while cleaning a griddle. A dish detergent will strip the seasonings from the griddle. The coating will be lost from your griddle.
However, keep in mind a dish detergent is not applicable for your griddle.
Although, a proper cleaning will take away some of the seasonings, so you need to take care of it and replenish a protective coating for the griddle.
The next steps will be including the cleaning process and some titbits of protecting your griddle.
Cleaning Process for your Griddle
The best way you can remove the leftovers on your griddle is to clean immediately after cooking. The hot griddle will help remove the remains easily and does very less damage to the seasonings. In case, the griddle gets cool it might be little tough for you to take of the food out from the griddle.
WASH THE GRIDDLE
Drop your warm griddle into the sink and pour hot water and scrub off as much as you can to take out the food off. Make sure to use a sponge or a nylon scrubber. Importantly, use kitchen or rubber gloves to protect your hand from hot water.
SCRUB AWAY THE FOOD
While cleaning your griddle make sure you are not using any metallic scrubber to remove the stubborn food which is stuck in your griddle. This will damage your griddle.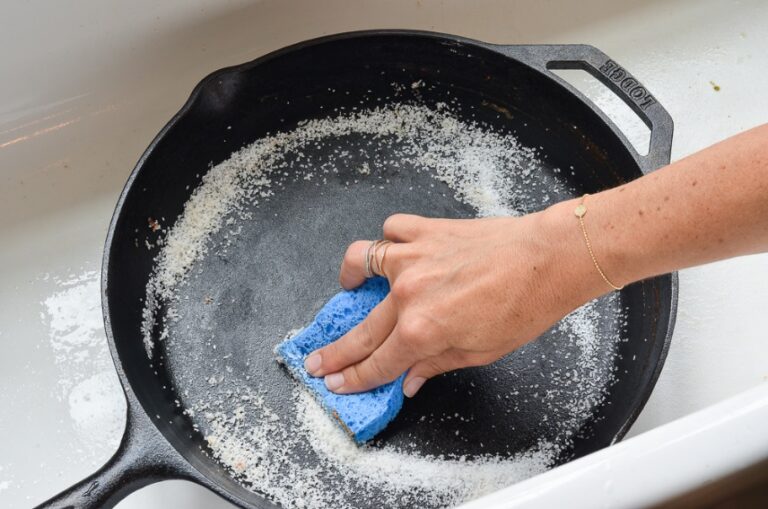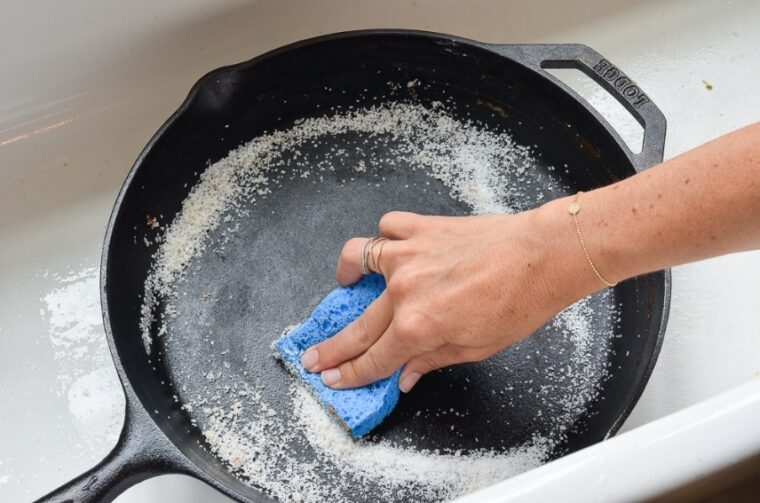 All you need to do is pour some amount of Kosher salt into your pan because it is coarser than your regular salt. Pour a little water and make a paste.
Apply the paste in the regions where the food is stuck and scrub it gently over the stuck food.
Rinse off the salt properly and you are left with a clean griddle.
DRY THE GRIDDLE
As I've told earlier, you should not keep your griddle wet, whatever the reason be.
After every wash and splash you have to make sure your griddle is properly dried. If not, you have to pay the cost for it. This step will tell you about the drying your griddle.
You can dry it out in two ways, either you use a dishcloth to wipe off the remaining water or you can place your griddle on a warm stove. After around five to ten minutes you can see the water has evaporated and the griddle is all dry. After that you can easily place it in your closet with no worry.
PROTECTIVE COATING IS NECESSARY
After the griddle is cool and washed properly.
Fetch for a paper towel and with the help of it spread the vegetable oil evenly all over the surface. If the oil is in excess use a second paper towel and soak up the excess oil. When you are done with the coating put the griddle away.
Always remember when you buy any iron cast griddle all you have to do is to do a proper coating at first.
You should follow the seasoning of your griddle like a ritual every year or two. With proper seasoning the griddle will be in proper condition.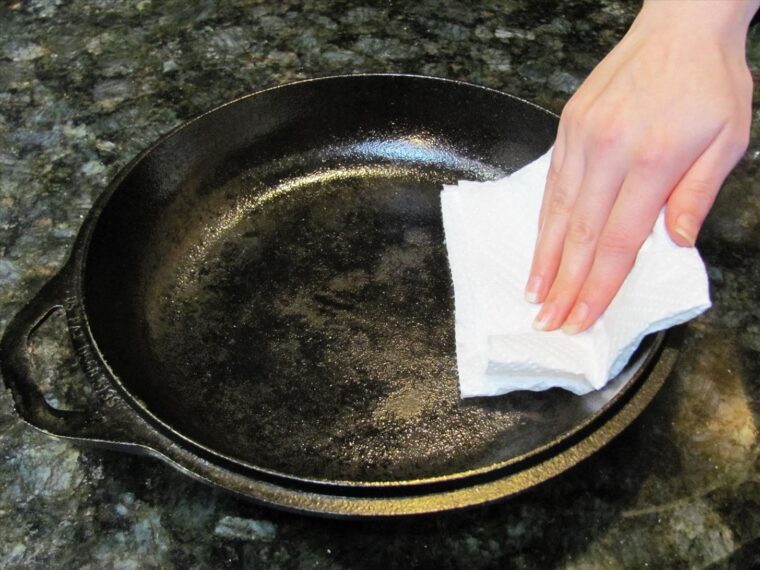 Before seasoning your griddle, wash it with detergent; then rinse it and dry it thoroughly.
After coating the surface with vegetable oil or shortening place the griddle upside down in a pre-heated oven of 350-degree Fahrenheit.
Let it bake for an hour.
Let the griddle cool in the oven turned off.
Wipe off excess oil before storing the griddle.
Although a proper cleaning will take away some of the seasonings, so you need to take care of it and replenish a protective coating for the griddle. If you want to find out more about cleaning you can visit this website!