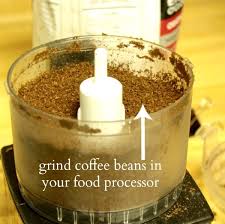 In this world where technology has belittled us , it is not difficult to assume that parts of it are present everywhere .
We have devices like slow cookers and deep fryers which help us cook , but there is an important step that comes before cooking anything . It is the cutting , slicing , shredding and grinding people have problems with .
Mixing dough is probably one of the toughest things I had to learn when I started cooking .
To keep the batter even , not let any crumps settle in , to keep the thickness apt , well , was one huge task for me . But now with the help of these devices , essentially known as food processors , everything is so easy , and less messy of course , right ?
So , long story short , a food processor makes your life easier .
But it also does so much more than that and I would like to tell you what and how .
To understand this , we need to understand how a food processor works , and what is it made of ?
Below mentioned are the parts of a food processor :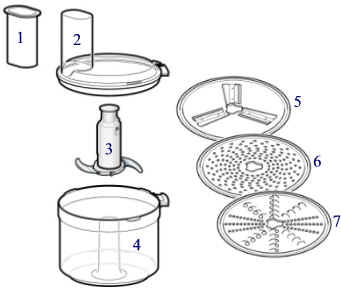 1 and 2 represent the pusher assembling .
3 represents shredding stick .
4 represents the work bowl .
5 , 6 and 7 are the different types and versions of the blade .
Work Bowl : This is one of the most important part of the food processor . This part of the device is where all your stuff is stored , before and after you finish grinding or slicing it , or whatever you want to do , for that matter . It is usually made of transparent material / plastic which helps you keep an eye out . The importance of this has been covered further below in this article .
Blade : The blade of the food processor is arguably the heart of the machine . It does all the work , for example , the slicing of vegetables of the moulding of dough , nothing would be possible without the blade . There are ( on an average basis ) two types of blades :
The steel blade : The steel blade is sharp on it's inside edges and when spun rapidly , can cut through anything like a piece of cake .
The roughened plastic blade : This is a bit more gentle as compared to the steel blade . It is mainly used for moulding dough and stuff like that .
The Top Lid : The top lid , as the name suggests , goes on top of the entire setup . It prevents the food materials from being splashed away in all directions when it's working . The top lid gets locked onto the body so there is no need for you to apply any manual force from the outside , something which is a big problem for a lot of mixer owners out there . The top lid also has a pathway for the food to be pushed in with the help of the pusher assembling .
Pusher Assembling : It goes on the side of the top lid and can even be considered a part of it . The function of the pusher assembly is quite simple . It helps you push in more vegetables or anything you want through the lid into the work bowl where the blades meet them .
Shredding stick : Sometimes you do not need to cut and you do not want to mould , right ? There's more to it than slicing . That's when the shredding stick comes into place . It can be attached to a shredder and be put inside the work bowl and then be covered with the lid . A shredding stick is also commonly made out of plastic and provides the perfect solution to your cheese craving at midnight !
Now that we know we can grind almost anything inside a food processor , it is important to know why coffee is the only thing ( beverage ) we are talking about .
So why coffee ?
Coffee beans are very porous .
Don't know how ?
Well , the tiny grains or beans have very minute holes in them which makes it porous . So grinding is not exactly the best way to go about it . It can makes the situation even worse than expected . When you grind something , it has to be perfect .
But with coffee , the case is not so simple . Coffee beans can be easily ground too coarse or too fine , both of which are not good news .
If the grinding remains too coarse , the coffee can be under extracted and less flavoured . A medium coarse ground coffee is best suitable for us . It preserves the aura of the coffee as well as it's flavour .
And if the grinding is too fine , the bitterness of the coffee would be felt all throughout and it would be over extracted . This would lead to distaste of the brew and would affect the final product adversely too .
You also do not have to worry if the coffee has been ground too coarse or too fine . We have a fix for everything .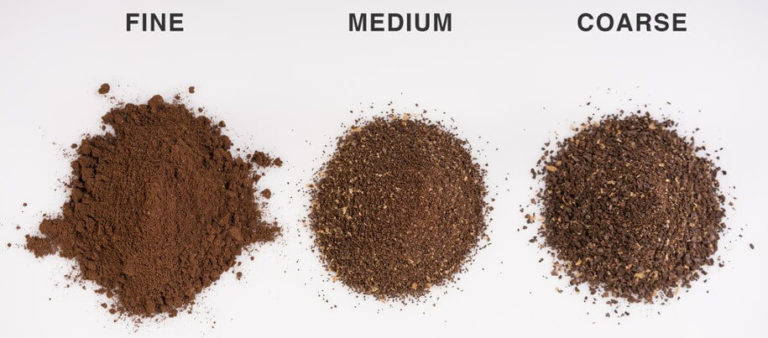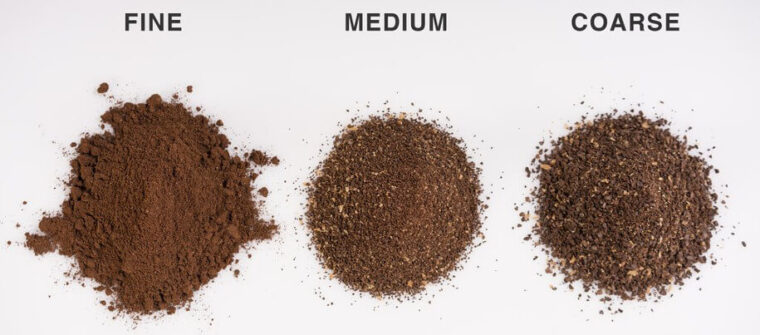 How to fix coarse ground coffee ?
This is a bit simpler to rectify .
The first instinct would be to grind it further and you are not wrong . The best and the easiest method to solve the problem of coarsely ground coffee is to grind it even more , using extra precautions because you do not want to cross the line between coarse ground coffee and fine ground coffee , rather you want to stay on the line .
How to fix coffee which is ground too fine ?
Take a stab at utilizing an increasingly controlled heat source.
I find that blending with a Moka pot ( you will have to own one ) on forceful heat source that convey high heat rapidly will in general produce high weights in the chamber which , for your situation , can be making it convey the espresso beans upwards too .
On the off chance that you mix on a lower warm and raise the heat bit by bit , the weight will develop increasingly slow lessen the measure of grounds shooting up into the assortment chamber.
So can we grind coffee in a food processor ?
Well , a food processor can be used to grind anything which can be grinded , so yes , you can use your food processor to grind coffee grains .
For a fact , anything that has steel blades rotating at a good speed ( i.e. having a good rotation per minute ratio ) can be used to grind coffee grains .
The best part about using a food processor to grind your coffee beans is that you always know when to stop .
Apart from having the on and off buttons on any device , a food processor has a pulse button that helps for such purposes quite effectively .
Steps to help you grind your coffee effectively :
Pour a few scoops of coffee grains into the work bowl and place the lid (locked) on top .
Use the " pulse " technique on your processor , grinding in short spaces . For better results , it is suggested to slightly tild the food processor from time to time which would help in even distribution of large and small grains ; so that all of it comes in contact with the blade .
Empty the processor and repeat the process for as long as you desire .
Happy grinding !
I hope that this article was a help and that may you always have a good cup of coffee at your disposal .