It's common to look around your kitchen and ponder what wall color will look best with your cabinetry. It may seem like a daunting task to choose wall colors for the kitchen that will complement the cabinetry.
Find Your Kitchen Color Scheme
What we're discussing is, essentially, a color scheme for a kitchen. The scheme is not limited to the walls but the entire room. As such, before you ever pick up a paintbrush, you should adopt the mindset of a designer and consider the room as a whole.
Take a step back and look at it from a birds-eye perspective. Your kitchen's paint colors will affect more than just the walls and cabinets; they'll also affect the appliances and hardware.
One thing to think about is how much natural daylight your kitchen has. The walls and cabinets of a kitchen that doesn't get a warm glow should be painted in light hues of warm colors. The use of light, and warm hues creates the optical illusion of increased illumination. If your kitchen is filled with natural light from wide windows, you have greater leeway to use darker colors on the walls and cabinets.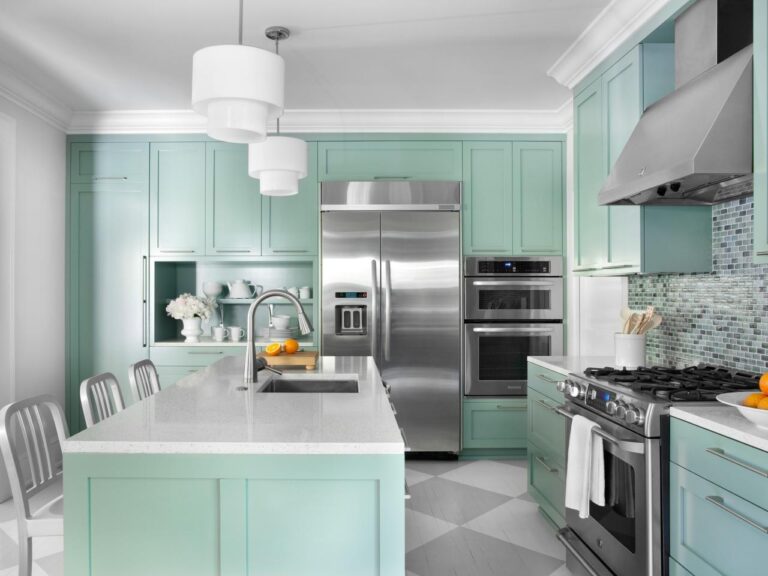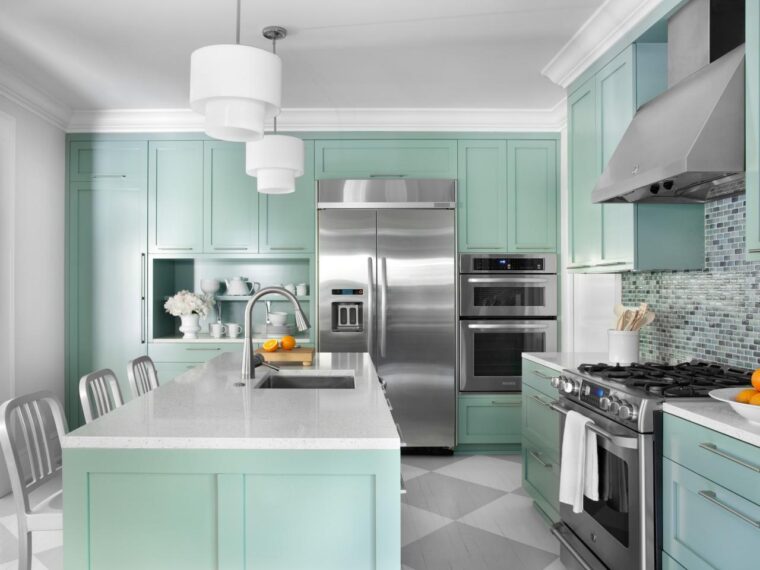 Also, consider the features of your current kitchen that you will likely keep. If you want a cohesive design in your kitchen, for instance, you can paint the cabinets, worktops, and floors the same color and still add wall paint and some unusual accent colors.
When you look at the kitchens of the best chefs in the world, they all invoice a specific feeling. Gordon Ramsey's kitchen looks very homey and rustic, which invokes a nice warm feeling. While his restaurant's kitchens are monochromatic, which just shows efficiency. The best celebrity chefs all use color theory for their kitchens to invoke certain feelings. Read more about the Best Celebrity Chefs and their restaurants over at Slingo.com
Follow the advice of the experts and make a mood board with of images that inspire you. This style of play can help you discover new possible permutations.
The Myth of White Cabinets
Do all colors look good with white kitchen cabinets? I guess that's true. Your white kitchen cabinets won't work with just any color, despite popular belief. That's because different whites are derived from different combinations of hues. They might be red-based (if red is part of the paint mixture), blue-based, yellow-based, etc. If you have white painted cabinets and know its name, ask the paint specialist at your hardware store what colors were used to create the shade you want. Afterward, you can pick a color palette that works with the underlying mood rather than against it.
To have a hardware shop match an unknown paint hue, just remove a quarter-inch square. In the event that you are unable to scrape the paint off (or your cabinets aren't painted), try matching the color to something you already have, such as thread or a scarf.
Knowing the paint's constituent colors can help you determine how far you can push the color wheel. By the way, you can learn your undertone by using this method on any cabinet color.
Do you want some more inspiration for kitchen wall and cupboard color schemes? Just to get you started, here are a few examples.
Match your paint to your center island
The island serves as a focal point, a location to get things done, and, if we're being really honest, a place to dump your stuff the moment you walk in. Quite a few people nowadays are installing high-tech closets in their houses.
Have you painted the kitchen island a contrasting shade to your cabinets? The kitchen will have a more polished effect if the wall and island are the same color, much like when you match your socks and tie or scarf.
Use your backsplash for inspiration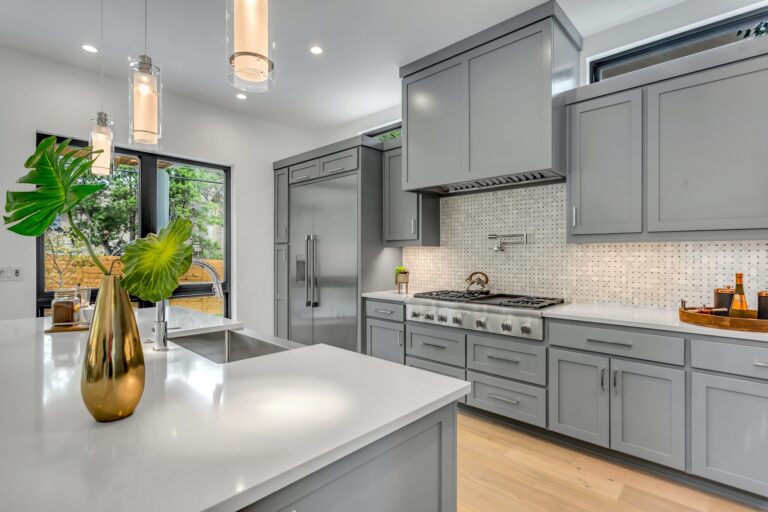 Backsplashes are often created to match the color scheme of the cabinets. Incorporating a shade from the backsplash is a simple way to add flair to your cooking space. Select a backsplash shade that either contrasts with or coordinates with the countertop. There should be no conflict between the countertop and the backsplash in terms of pattern or texture. Pick either one if you want it to stand out more.
Undertones
Your cabinets might lean toward warm hues or cool colors, depending on the undertone. These ash-colored cupboards go well with ash-colored neutrals, as does the island's cool yellow finish.
Metallics
In an all-white or gray kitchen, painting the wall to match might appear like a lazy job for a contractor. The color scheme you choose should be relaxing, but should also highlight the features of your metal furniture and equipment. It might be intimidating to choose on a color scheme for your kitchen, especially if you're trying to coordinate the walls and cabinets. With little guidance, though, the process can be enjoyable, and the resulting kitchen will be a true reflection of you.
Your Appliances
You may decide that you want built-in appliances. If you've decided that your built-ins will be hidden away in the cabinetry of your choosing, you may continue on to the next phase. If you prefer freestanding models, think about how the appliances' faces will look in comparison to your cabinetry. You should not finish your cabinets until you have decided on your appliances.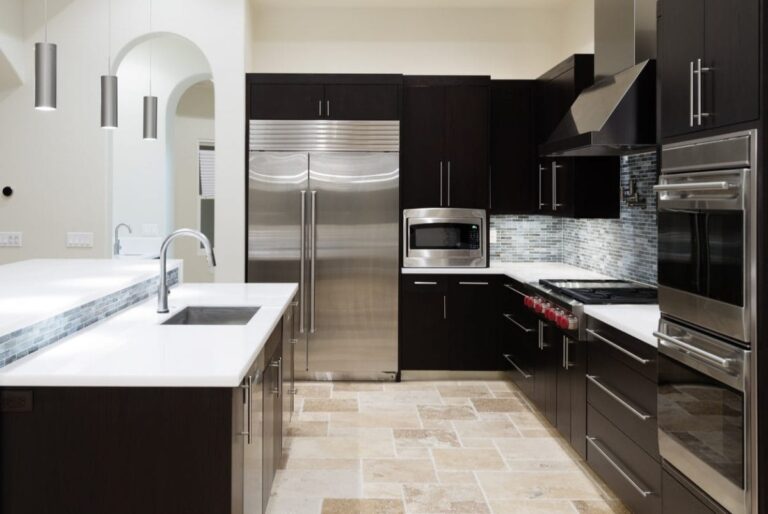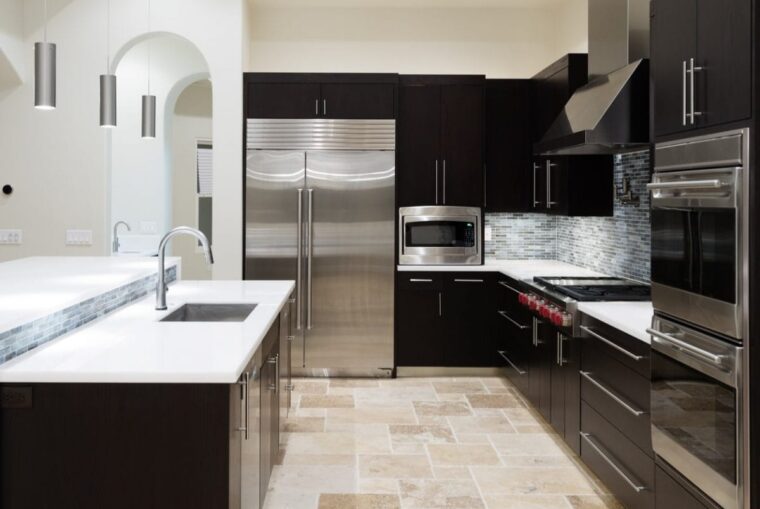 Your kitchen's color scheme will be largely determined by the color of your refrigerator, dishwasher, and sink. Your home's appliances should fit in with the design, not detract from it. Just make sure your new appliances match the color scheme of your cabinets. Think about getting white or light greyish cupboards to blend with your white appliances. Brown tones, vivid colors, and shades of grey all work nicely with stainless steel equipment. These points may appear simple at first glance, yet many individuals make a common mistake while applying them.
Wood or Tiling
The kitchen floor's color usually has to match the flooring in the adjacent rooms. Without testing, it might be hard to tell whatever works and what doesn't. A kitchen floor color should complement the other finishes and fixtures you've chosen.
The first step is to choose your materials. Common flooring materials include hardwood, tile, and laminate. The cabinets in your kitchen should be one of two prominent colors in the room. Your kitchen's vibe will be set by a color scheme that's complimentary yet opposing. White cabinets, natural wood or laminate flooring, and a countertop with gradations of light and dark colors are a traditional design choices.