Health is the biggest fortune that anyone can ever possess. As we are headed into the 21st century, people are becoming more aware about their body and do everything possible to keep it safe and sound. Not only external protection is required, but we also need to make our body strong internally. There are number of recipes that not only have a great taste, but also improves the immunity of body. One of them being the Kefir Grains.
Kefir was thought to be a magical drink and was believed to lose all its power if disclosed to the outer world. But today if we are discussing about it, that means it still is beneficial and all the saying were nothing more than myths! At one stage of the recipe, you need to strain the Kefir grains to rinse out excess water in them. In this article, we are going to discuss some of the Best Strainers for Kefir Grains.
What exactly is Kefir?
You might be wondering that this might be a mystical beverage that has millions of benefits. In reality, Kefir grains are not actual grains. It is basically a fermented milk drink, more like a thin yoghurt with some granules. The particles are formed with milk proteins and some edible sugar complexes.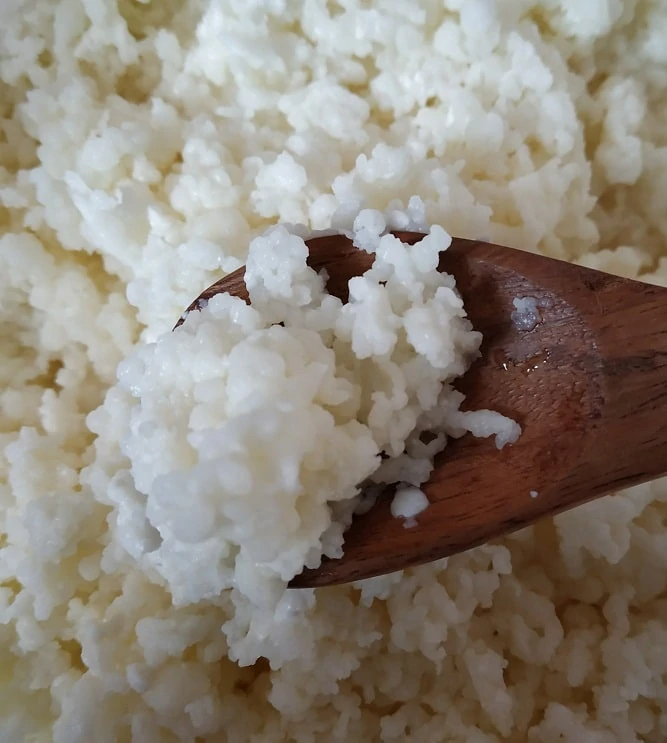 https://www.naturesprobiotics.in/shop/milk-kefir-grains/
It is made by adding kefir grains to milk, whether it be goat, cow, almond, soy etc. The mixture is let to settle for about 24 hours without any disturbance. The kefir grains in milk starts doing their job and ferments the milk particles. This all results in a healthy drink that is full of organic compounds that are good for our health.
Health Benefits
Kefir is a complete package of more than 30 types of good bacteria that benefits human body. Some scientists even believe that it is a stronger probiotic than yoghurt itself. For those who don't know about probiotics, these are live bacteria that balances out the bad bacteria present in your body. They mainly focus on developing an effective digestive system, but also improves immune system, skin condition and oral health.
To make it east to understand, we can imagine that yoghurt has 8-10 strands of good bacteria whereas kefir can have upto 30. Many people look at it as a cancer curing food that reduces carcinogenic compounds in the blood. Overall, it stabilises your metabolism and makes you immune to many diseases.
As you are over with the fermentation, now comes the part where you have to strain them out of milk. Even though all the strainers can be used for this process, but we have a list of some models that are best in their job. These are specially designed for bringing out the best taste and odour of your kefir grains.
Culina Nylon Mesh Strainer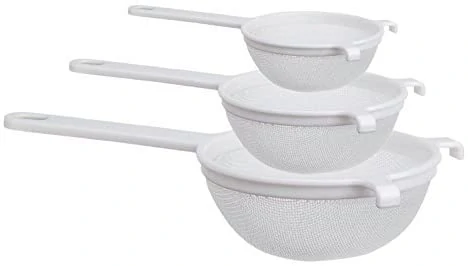 https://www.amazon.com/Culina-Nylon-Mesh-Strainer-Set/dp/B00FESIZPA
Culina provides you with a complete set of 3 Nylon Mesh strainers which is suitable for your daily use, even for straining kefir grains. These are some of the most economical strainers with high quality material used to manufacture them. The strainers are durable and come with long handles attached to them. This will protect your fingers while dealing with hot beverages and avoid spilling.
There are 3 different sizes of strainers in a single set with 3 – 4 inch, 5½ inch and 7 inch of diameters. No matter how much amount of kefir you are straining, there will always be the perfect size available for you. Moreover, they have small hooks on the circumference in order to rest them over any vessel to strain.
Nylon used in the strainers is tested not to disturb the taste of kefir milk after completing the process. There are additional slots at the end of the handle for better storage solutions. It is totally dishwasher-safe and doesn't require much hard work while cleaning. You can take help of smallest strainer for 'young' kefir beans and switch to the bigger ones once beans starts growing in size.
US Kitchen Supply Strainers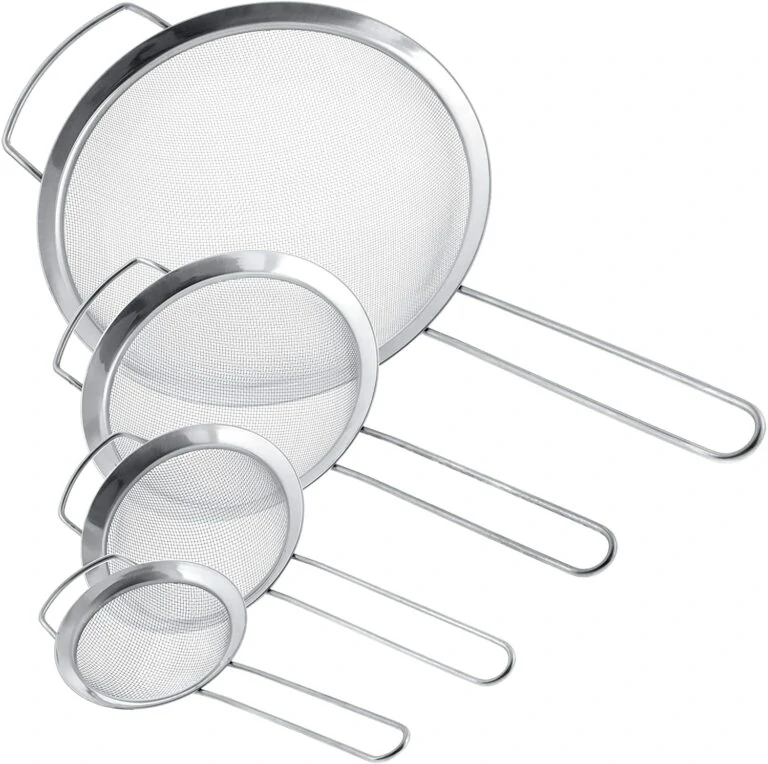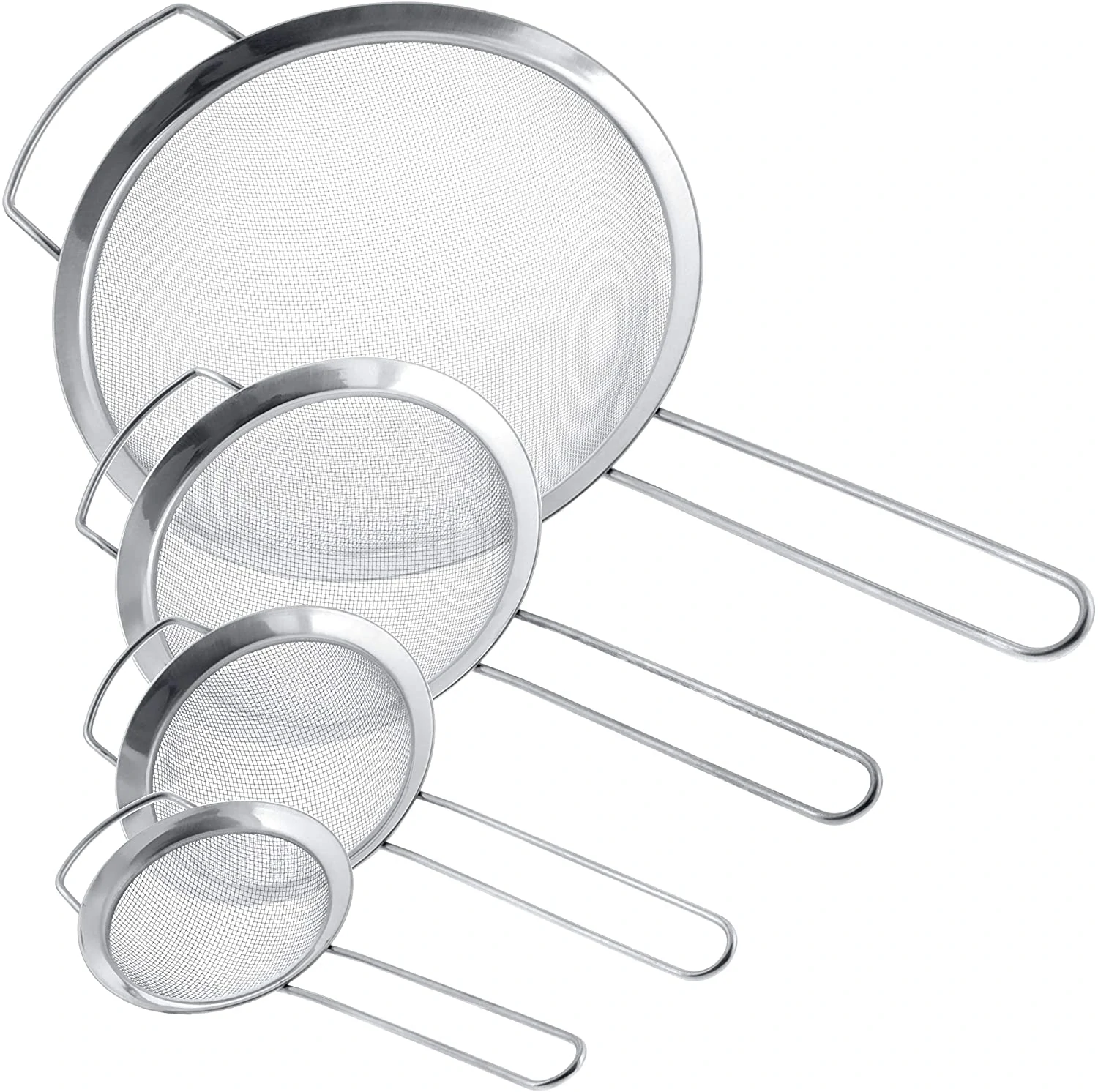 https://www.amazon.com/U-S-Kitchen-Supply-Stainless-Vegetables/dp/B01MG86UPQ
I don't think that you can get a set of 4 strainers at such a reasonable price anywhere. US Kitchen Supply Strainers contains fine mesh attached to solid wired handles. All the four pieces are round in shape with varying diameters of 3, 4, 5.5 and 8 inches respectively. The stainless steel body claims rust-free environment for your food and lasts for a lifetime.
Now the question arises that what size is the best option for straining kefir grains. Well, to be honest it depends upon your preference. It is always better to have a choice and try out for yourself that which strainer fulfils your needs. Thus, ordering a set of 4 is always the safer option for you. The smaller ones can be used while making coffee or tea and large ones make their way through while dealing with kefir.
The manufacturers are so sure about their product that they provide a lifetime moneyback guarantee with it. It means you can use them for a few days and if you are not satisfied by the results, you can get your money back. This shows the faith that they put into their customers while selling the product.
HIC Nylon Mesh Strainer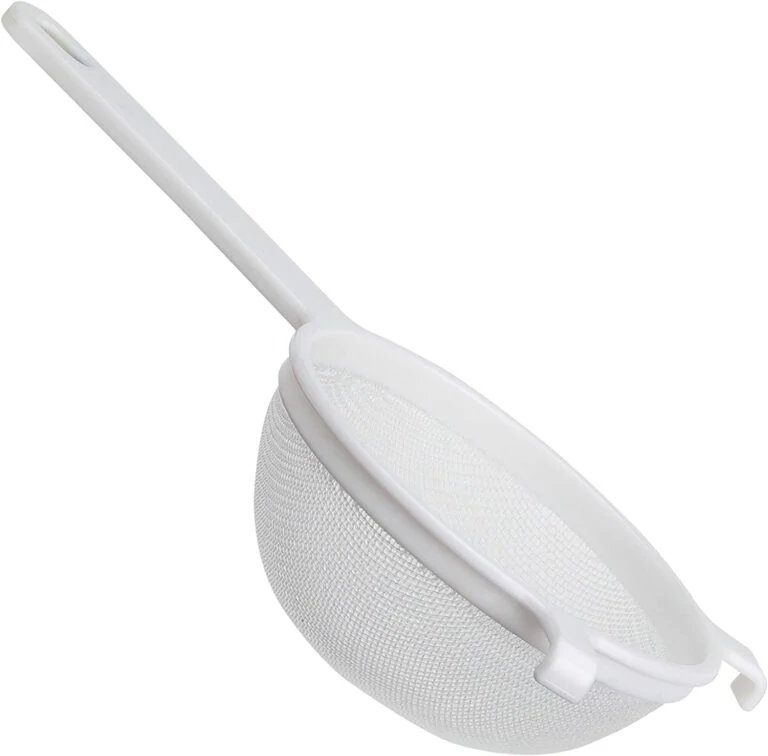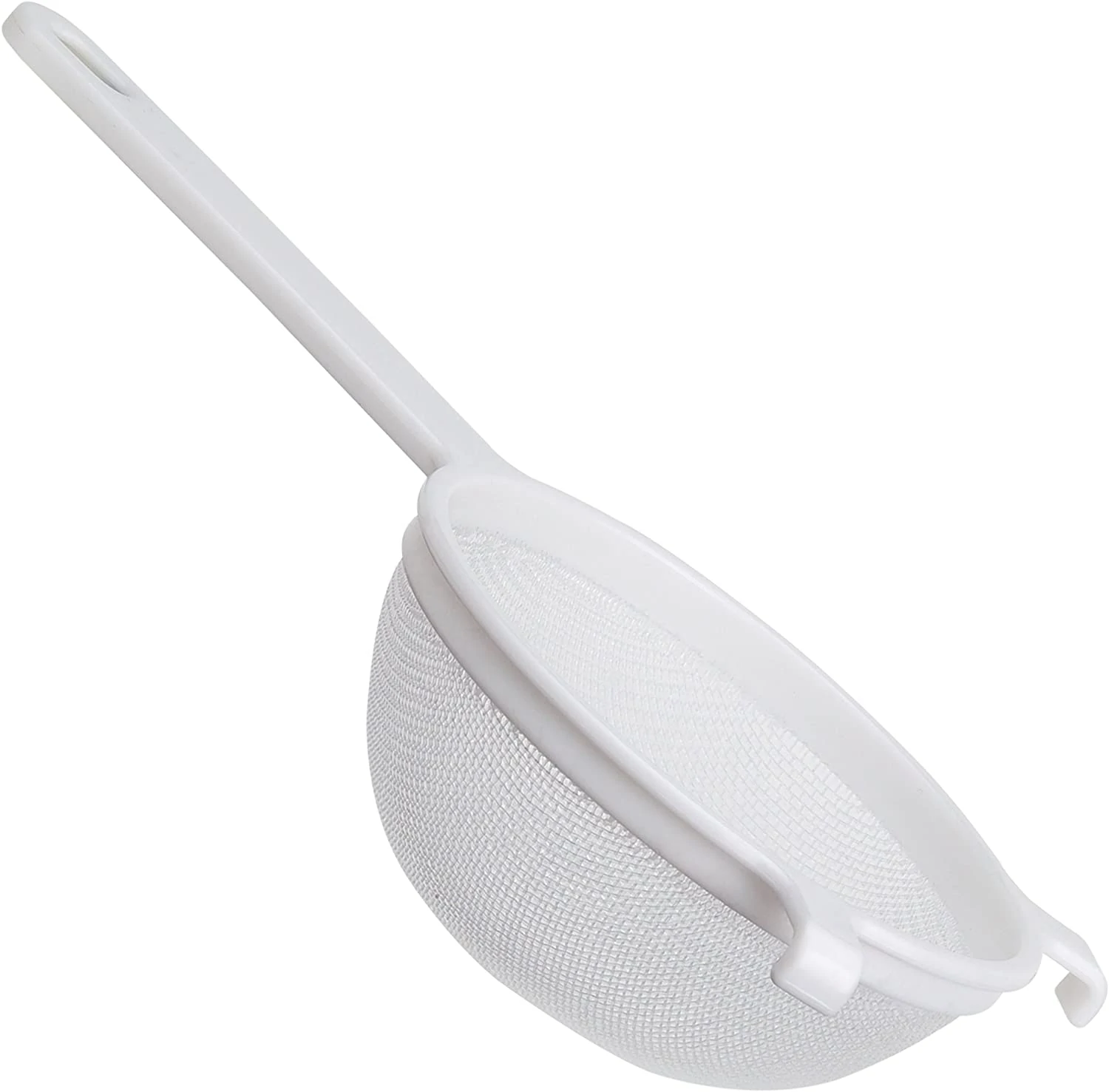 https://www.amazon.com/dp/B0042X9XAY
The HIC Nylon Mesh Strainer is a dual-hook model that can be easily placed over a bowl while straining. The two extensions on the rim gets hooked to the edges of your container and prevents it to move while stirring the kefir grains. This feature is extremely important as sometimes kefir needs to be pressed with a spoon to extract excess water.
The mesh is completely made from non-reactive Nylon material that maintains taste of the food. The gaps in the net are small enough to trap even the tiniest bits from the mixture. The slots at the end of handle evacuates the storing issue as now they can be hanged in your kitchen. After using it, you can easily clean it in the dishwasher without worrying about the mesh. However, you still want to rinse it twice before using for the next time.
The strainer is designed to break large lumps of kefir while pouring it. I would like to bring it in your knowledge that its size is (7 x 7 x 4 inches). Many users believe that this configuration is small for straining kefir. But as already mentioned, it all depends upon your perspective. According to me, this size is enough for the whole family and if required, you can strain in small portions.
Imusa Plastic Strainer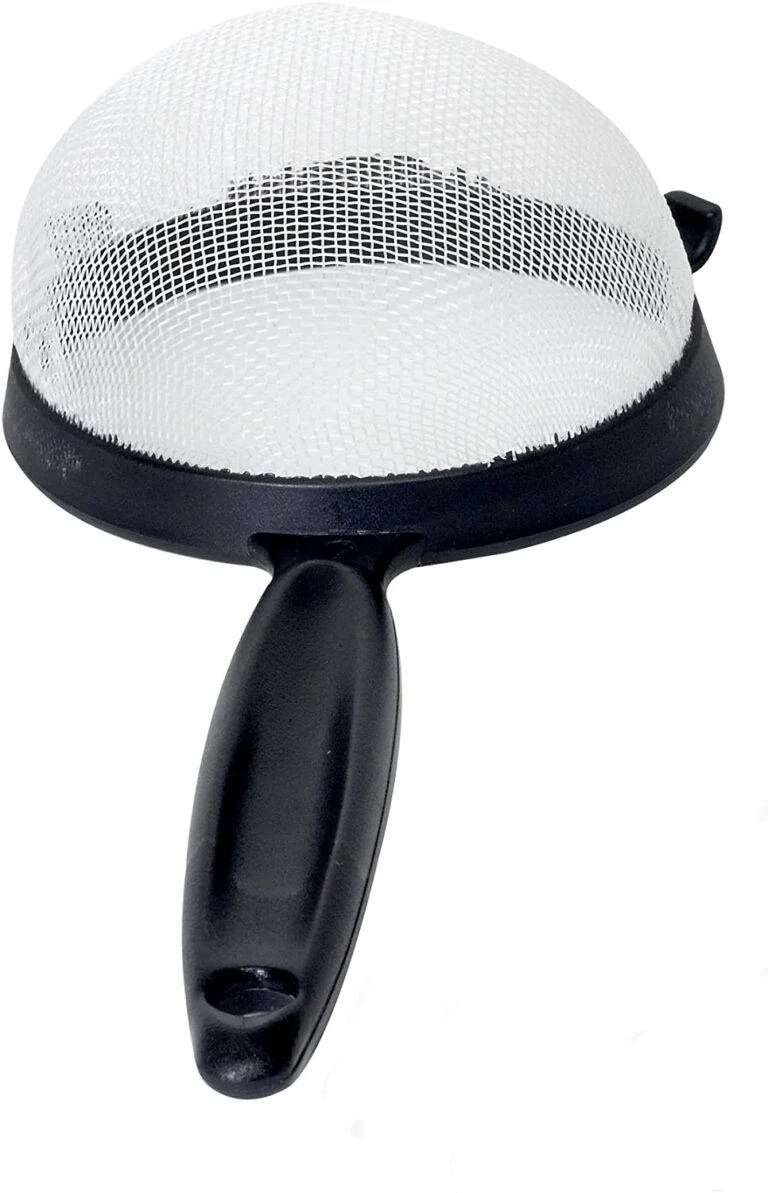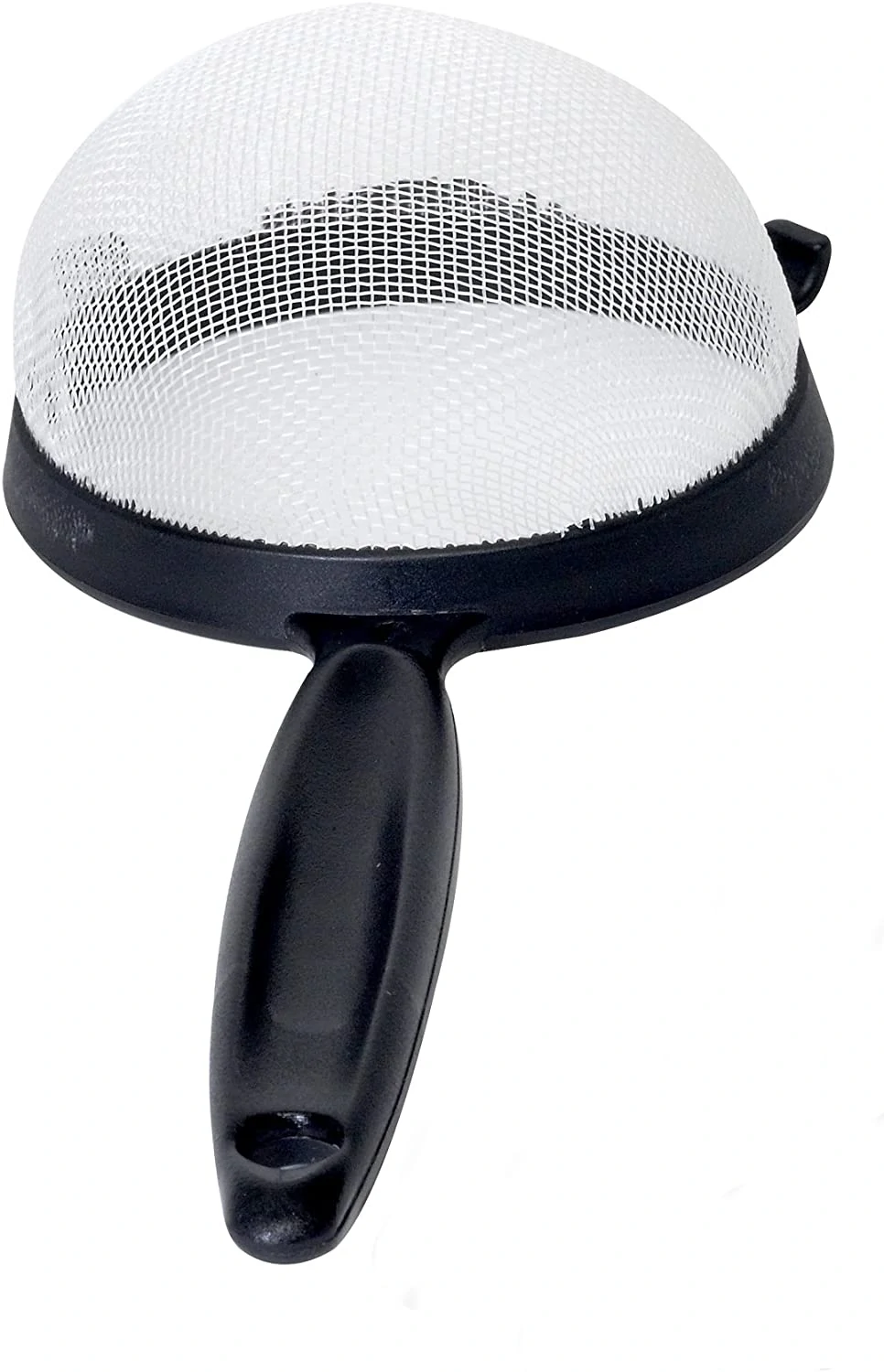 https://www.amazon.com/IMUSA-IMU-71134-Plastic-Strainer-7-Inch/dp/B01FIL7M1U
Imusa Strainers are not only good for kefir grains, but they also can be used for other day to day operations. This is quite different from other models as its whole body is made of high-grade plastic. You can easily rinse boiling water without worrying as the mesh material is quite durable. It has a 7 inches diameter mouth that can fit over any normal sized bowl or container.
There are slots present in the handle to make it convenient while hanging. It is also dishwasher safe, but you can clean it by just a stroke under running water. You even get 2 prongs attached to the strainer for gripping sides of bowls, jars and other containers. It won't take much space in your kitchen, as well as in your budget.
The strainer is ideal for kefir grains and do the job without any spill issues. The quality of this product is more than it looks from outside. Moreover, there is no chance of breaking the strainer as complete body is made of plastic. Give it a try and I'm sure it will not disappoint you.
What's the Best Strainer?
I don't think that you need to think regarding about either of the above mentioned strainers. They all are equally good for this job and won't make you regret your choice. But still if you want to select one among them, we would personally recommend you the US Kitchen Supply Set above all. It is slightly more efficient than other strainers we talked about.
Moreover, you can enjoy the lifetime guarantee than comes along with it. It is not only used for kefir grains, but will also serve other purposes in your kitchen. Thus, this set is really in demand for the kefir consumers around the world. In the end, the final decision is upon you and you have to make the best choice for selecting strainers.