Crock-pots are usually used for making soups, stews, or for slow-cooking meats, but they come with a surprise package, these crock-pots can also be used to making other foods which you might have not associated with a slow cooker, such as fruit butter, brownies, bread, cheesecake, and even yogurt.
And not only this, but you can also use these crock-pots for your conventional non-edible uses such as making candles, dye wool, and yarn, recycling broken crayons, and much more.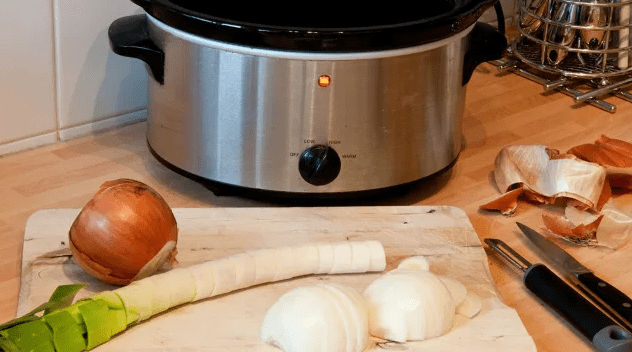 Crock-pot is known as a slow cooker, an electrical appliance, which is highly used to simmer (a food preparation technique in which the food is usually prepared below the boiling point of water (100* C or 212*F) or above poaching temperature (higher than 71–82 °C or 160-180°F) at temperatures which are comparatively low than other cooking methods such as boiling, frying, baking.
And not only this, this appliance is equally loved and embraced across the globe for its simplicity, convenience, and cost-effectiveness.
A wide range of dishes can be made in crock-pots which require unattended cooking time. Here is a list of some of the dishes which are prepared through crock-pots:
Chicken noodle soup
Baked Beans
Mozzarella-Stuffed Chicken Meatballs
Thai Peanut Chicken
Sausage and Peppers
Salmon With Creamy Lemon Sauce
Vegan Tikka Masala
Beef Stroganoff
Butter Chicken
Macaroni and Cheese
And the list of these lip-smacking dishes is never-ending.
Crock-pots slow cookers have always been the most trusted and comfortable appliance right from small family gatherings to special occasions they will accompany you with everyday tasks, ensuring your culinary creations are bursting with flavor as you entertain friends and family.
Does crock pot need liquid?
As we know that crock pots are great time-savers for busy people but the most common question everyone faces is that- "a crock-pot needs liquid or not?"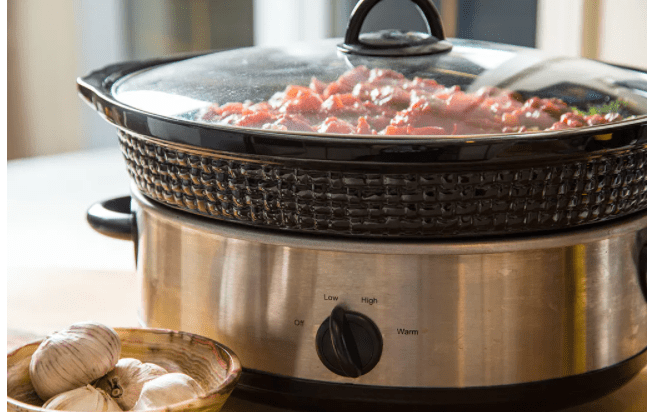 While working with a slow cooker, the amount of liquid that will be generally required is totally dependent upon the category of food one desires.
Because crock-pots are known for utilizing the natural moisture and fat from the food, and there might be cases that you won't need a plenty amount of added water or broth for your food (if any).
But you might need to add some water while cooking drier foods though.
But that's not all, there's a lot more to learn because usage of a minimal amount of water can crack your slow cooker, and using plenty of water can make your food bland.
There might be several questions running in your mind like how much liquid should actually be used to make the desired food?
Is dry cooking possible in slow cookers?
Does the meat need to be submerged in the crock-pots?
What will be the results if too much liquid is used in a crock-pot?
How much liquid is actually needed in crock-pots?
Usually, the amount of liquid that is actually used in slow cookers needs to be limited. And this generally depends upon the type of food you are preparing.
Like if you are cooking soups or stews, you will have to add a substantial amount of water or more ideally speaking the stock or broth.
For stews- The amount of liquid should depend upon how much thick you want your stew to be. Generally, the liquid added should cover ¾ marks on the slow cooker while adding stew. While in the case of meat, you don't need to add extra water or broth because the meat itself releases some extra liquids during cooking.
Some meats such as chicken wings, beef shin, lamb shank, drumsticks don't require extra water or broth.
But leaner meats like fillets and chicken breasts won't give you the same results if you dry cook them. And adding a little amount of liquid is required to create the steam and jumpstart the cooking process. So in order to make your lean meat tender, you should cover them while cooking in slow cookers.
While beans and bony meat on the other side require a good amount of water, to be prepared, especially if you have not soaked the beans overnight.
What if I use too much liquid in crock pots?
Well, this question is very common amongst people using slow cookers.
And the answer to this question is simple as it looks. If you used too much liquid in your slow cooker, you might get overcooked or will have a bland taste.
And if the food you are preparing requires a limited amount of water, here are a few ways which you can take to prevent the dryness without the addition of too much liquid.
Start with defrosting your food. Frozen food has extra liquid if it is not properly and tightly sealed at the time of storage. And as a result, the extra liquid will end up increasing the intended amount which was actually required while cooking.
Before placing them in crock pots, make sure that the frozen food has been thawed well.
For high-fluid vegetables and meats, dip them in flour first and then place them in slow cookers. This will generally reduce the number of liquids they release.
Try adding a thickener. As the thickness of the liquid will redeem the lost taste.
If in case the extra liquid has made your food go tasteless, you can add some seasoning to your food to enhance and boost the taste.
Is dry cooking feasible for Crock-pots?
Of course yes!!
When doing dry cooking, it is advised to use foods that already have an adequate amount of natural liquids in them. The liquid helps in creating the required steam to cook the desired food.
Though I have already mentioned the type of meat suitable to cook in slow cookers.
For dry cooking meat, you can also create some steam either by adding vinegar or sauces which are generally used for marinating, a little amount of wine or beer, or broth to prepare your luscious food.
When it comes to suitability, Root vegetables like potatoes, onions, carrots, etc are the aptest for dry cooking in Crock-pots as these have a sufficient amount of liquid to form steam during dry cooking.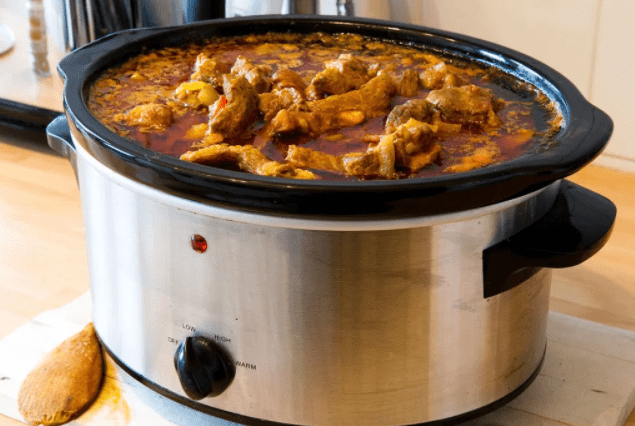 However, there are only two categories which you should avoid using in dry cooking in the crock-pots- and they are some green vegetables and fast-cooking foods.
It is a tried and tested fact that the vegetables are in their healthiest mode when they are semi-cooked. If you allow them to simmer in crock pots, they will overcook and lose most of the essential vitamins and minerals.
And as the vegetables themselves contain plenty of fluids, they will quickly become soggy in slow cookers.
The cooking of vegetables like spinach, eggplants, broccoli, zucchini, cabbage, bell peppers, and kale should be avoided in crock pots.
Whereas fast cooking foods such as- Eggs, Bacon, Dairy, Pasta and spaghetti, Rice, Fish, seafood, beans (these have to be pre-boiled for at least 15 mins prior on the stove to eliminate natural toxins before placing them in crock-pots), frozen meat (first the meat need to be thawed otherwise it won't cook properly in the slow cooker).
What precautions one should take while adding liquid in Crock-pots?
It is highly recommended to not use the crock-pot for reheating purpose
The Reheating process in slow cookers might lead to food poisoning.
Scientifically, the heat which is required for heating the food not only makes the food warm but is also beneficial in eliminating prevailing bacteria from the food.
Rather use a stove or microwave oven to reheat food and you should be fine.
And after you have reheated it once, then that food can be used in slow cookers for keeping them warm further.
Do not Peek
While cooking in slow cookers, make sure that you don't peek inside by opening the lid. As doing this, the temperature level inside the cooker will fluctuate and this will increase your cooking time. So it is highly recommended to avoid this thing.
Do not keep the heat mode too high
Every appliance comes with different types of modes to regulate the time of your food kept inside.
And slow cookers also have two basic modes in it- one high and one low.
When you slow cook at high, it means that it will take 3 to 4 hours to reach the simmer point and if you cook on low it will take 6 to 8 hours to reach the simmer point.
So it's clear that the liquid used in crock pots really depends on the food which you are going to prepare. Putting the right amount of water in a crock pot isn't that hard. It will take time and by the practice and experience, you will get the hang of it easily.
And not only this they will always add a stylish, quirky addition to your kitchen.
Be it any season or occasion, your crock-pot slow cooker will always give you the up to the mark performance.
These crock pots are your perfect kitchen companions which will add a little magic to your busy lifestyle and will make you flaunt your culinary skills.
And what attracts more is that that you need to be a professional chef to operate it, just simply mix all your desired ingredients take a seat back and just wait for your luscious results.
Moreover, these slow cookers will only use just a fraction of power usually taken up by the conventional oven and will give you delicious tender family meals in hours without giving much attention to the appliance.
They have always been the most convenient solution for nutritious eating.