To find people who can resist dogs is a rarity. These furry balls of happiness are man's best friend and bring infinite joy to one's life. Dogs are foodies. They are known to eat anything and everything, as long as it tastes good. They mingle with their masters in a minute and don't hesitate to ask for their share of food either. But is it healthy to feed them the food that we eat? Let's find the answer in this article!
History of Dog Food
Dogs are one of the earliest animals to be domesticated. The DNA of our four-legged friends shows that they split from wolves about a hundred thousand years ago. The domestication of dogs is very interesting.
Humans killed rival predators, including wolves. But it's speculated that some friendlier wolves may have hovered around humans to eat their leftovers, and a bond started forming between the humans and the wolves. It is evident that there was no dog food when dogs were first domesticated. They used to eat scraps and leftovers from humans. So what changed?
In brief, human society changed, and pet ownership became more normalized over a few thousand years. Feeding your dog your leftovers from the table started to get frowned upon.
By the 19th century, Empress Tzu Hsi of China started feeding her dogs some lavish items such as shark fins, quail meat, and deer milk. The royalty in Europe had started feeding their dogs some sweets and flesh of exotic animals.
But specialized food for dogs, or dog food as we know it, made an appearance in the Industrial Age as the middle class prospered.
By then, pets, especially dogs, were considered indulgences of luxury, and people wanted to show off their wealth by owning expensive breeds of dogs.
In the 1850s, American businessman James Sprat invented a kind of dog biscuit by mixing wheat, barley, and vegetables with some added beef blood. The biscuit became an instant hit, and by the 1920s, canned wet dog food was also introduced in the market.
In the 1960s, the Pet Food Institute funded and released a bunch of scientific studies to warn people against feeding scraps and leftovers to their dogs.
So this was a brief insight into the history. If you are curious to get more information about dogs and their needs as well as the best dog food for Yorkies, head on to WeLoveDoodles.
The Safe Human Food For Your Dogs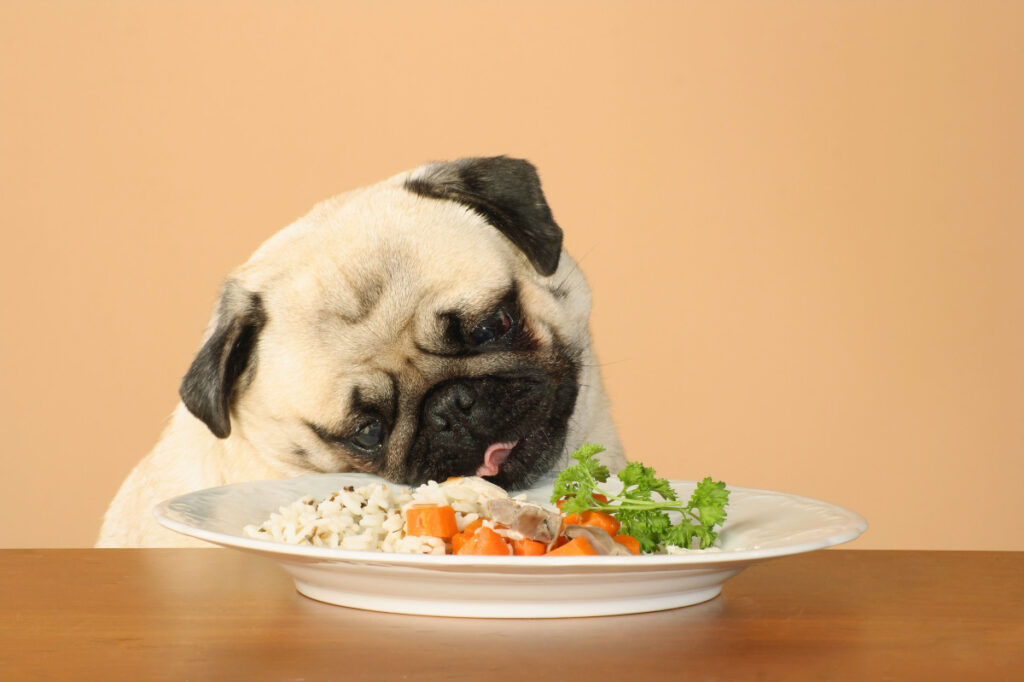 So, dogs can indeed eat human food. But the quantity and quality are important things to consider.
Fast foods, such as cheese, hamburgers, and other deep-fried delicacies and spicy foods in large quantities are not suitable for them. These things should be fed in moderation. Interestingly enough, humans should eat these foods in moderation too.
However, a healthy diet of humbly cooked meat, vegetables, and fruits can actually be quite beneficial for your pooch.
Some healthy foods for your dogs are flax seeds, green beans, eggs, pumpkin, peanut butter, carrot, different types of fruits, and sweet potatoes. This list is not exhaustive, but these foods can go a long way in nourishing your dog.
The five most important nutrients are proteins, fats, minerals, vitamins, and carbohydrates.
The foods mentioned above are high in essential nutrients, but you may need to mix and match the items to fulfill your dog's nutritional requirements. This is where dog food comes into play. They are prepared by blending the perfect proportion of all the nutrients. Check Pumpkin for more info about this.
Packaged foods after hitting the market have dissolved the feeding hassles of dog owners. Along with ordinary dog food, special combinations, catering to the taste and needs of different breeds are also getting popularised. Be it dog food for Yorkies or Rottweilers, you will find it all safely stuffed in packets. All you need to do is shake a handful of feed into a bowl and see your pretty puppy smack its lips.
Foods That Are Harmful To Dogs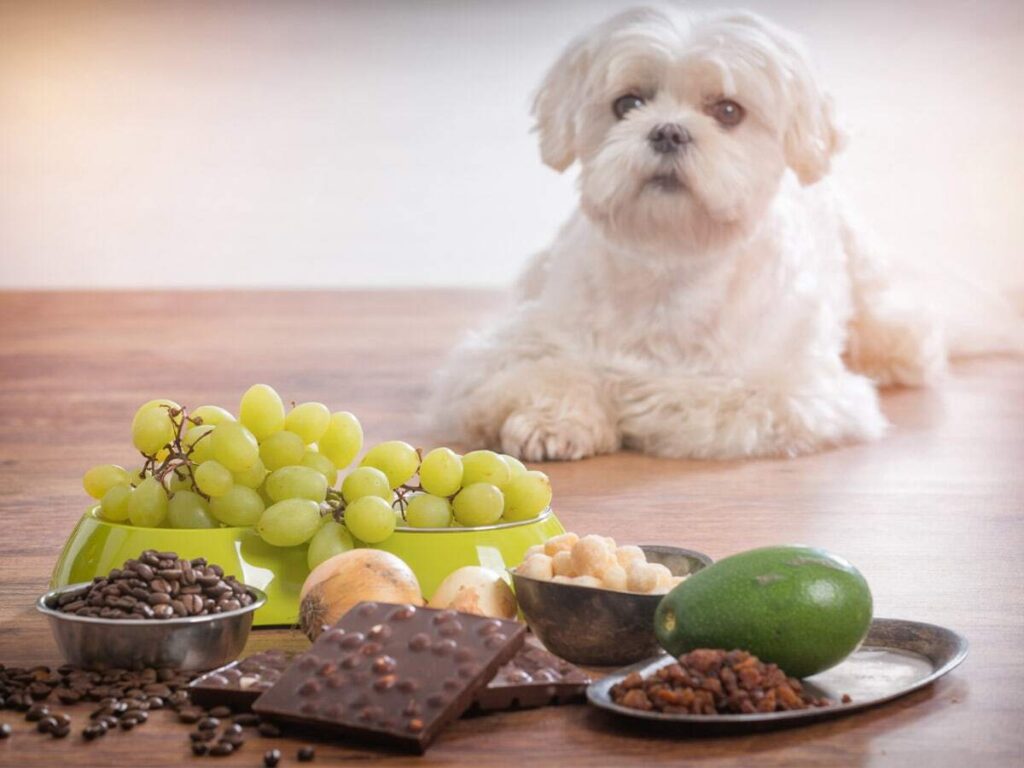 Since dogs digest food differently and have a different metabolism, feeding certain human foods to dogs can be extremely detrimental to their health.
Listed below are a few such items that are toxic to dogs and cause severe damage to their well-being.
Xylitol: Xylitol is a common ingredient in candies, toothpaste, and other sweet foods. It is a sugar alcohol that perfectly fits human consumption but will cause severe health problems to dogs. Symptoms start to set in about an hour after consumption, sometimes even earlier. Vomiting, mobility issues, a steep drop in blood sugar, and lethargy are common symptoms. This will eventually cause liver and kidney failure.
Caffeine: Caffeine may be an energy booster for humans, but it's toxic for dogs. Energy drinks, tea, and coffee have high levels of caffeine in them. Ingesting even a small amount of caffeine can cause damage to your dog's heart and nervous system. Keep caffeine out of their reach.
Chocolate: The darker the chocolate, the more dangerous it is for your dog. Chocolate contains a chemical called theobromine which is extremely hard for dogs to digest. Chocolate also contains large amounts of caffeine. Eating chocolate will cause muscle tremors, stomach pain, and seizures in your dog. Take extra care during festivals like Halloween and Easter as dogs are more prone to eat chocolate then.

Alcohol: Alcohol is extremely dangerous for dogs. Alcohol is found in alcoholic drinks, paint, mouthwash, and other common household substances. A small quantity of alcohol will cause symptoms like diarrhea, low body temperature, and poor muscle coordination. A larger amount will lead to lung failure, coma, and death. Alcohol should be kept miles away from your dog.
Raisins: It is currently unknown what chemical exactly causes the adverse health effects in dogs after eating raisins. Nevertheless, raisins and even grapes are very dangerous for your dog. It is important to note that grapes and raisins used as ingredients in sweets can also be damaging.
Ingesting raisins and grapes will cause kidney failure and death.
Onions, garlic, avocado, and raw yeast are some other items that might be rejected by your dog's digestive system. Consult a veterinarian from GreatVet for more precise information.
Conclusion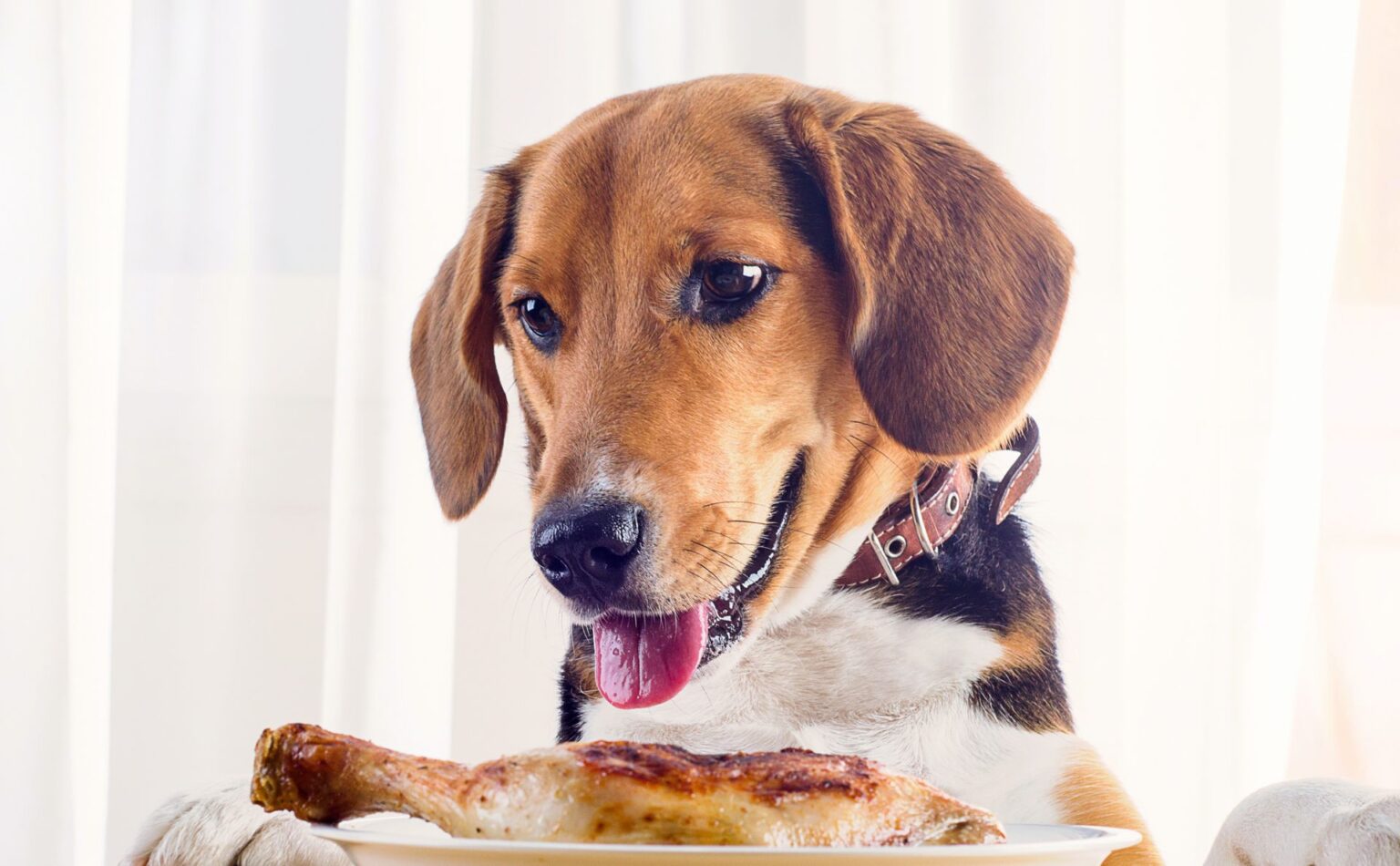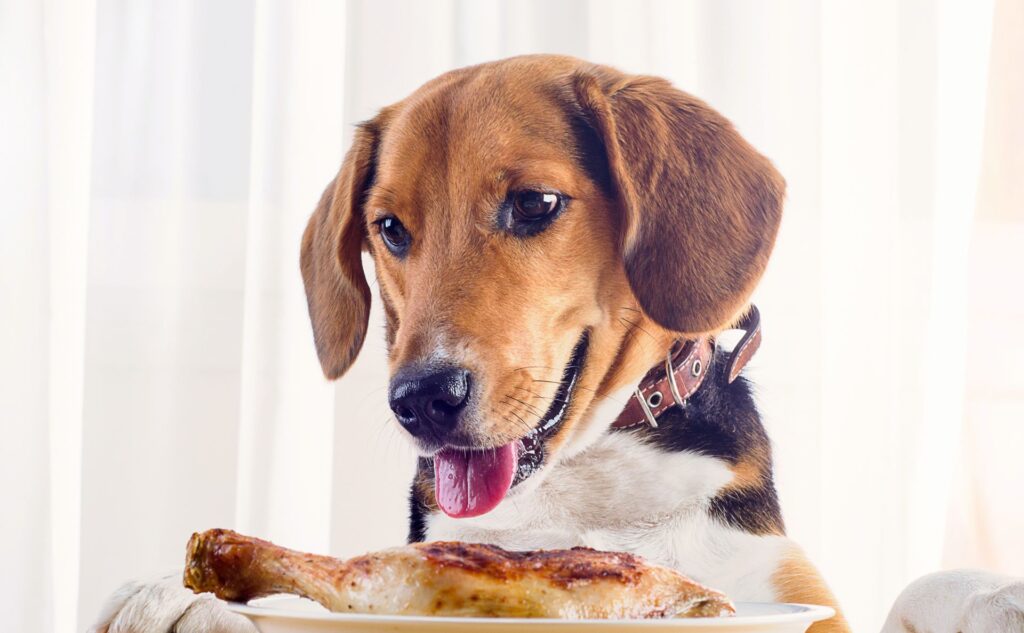 It is understandable that the companionship we have with dogs goes beyond the relationship of a master and a pet. Over the years, the four-legged friends become an inseparable part of our lives. We crave for their company every single time we are not occupied. Tending to their needs feels ecstatic and feeding them allows us to relish the depth of intimacy.
Though it might often feel overwhelming to feed your dogs from your own plate, it is important to be cautious since not everything that you eat is compatible with their metabolism. If you're planning to feed human food to your dog, make sure to consult a veterinarian for proper advice about nutrition and possible adverse effects.