The refrigerator is one of the best innovations ever made by humankind. It helps us store our food and drinks for a longer period of time. But it can not be stored in a traditional fridge when it comes to wine. You will need a wine fridge to store wines in perfect condition.
There are multiple benefits of using a wine fridge. It can help you store your wine for a longer period of time. There are two types of fridges – built-in and freestanding. In this article, we will discuss what wine fridges are and provide information on purchasing the perfect one.
What Is A Wine Fridge And Why To Own One?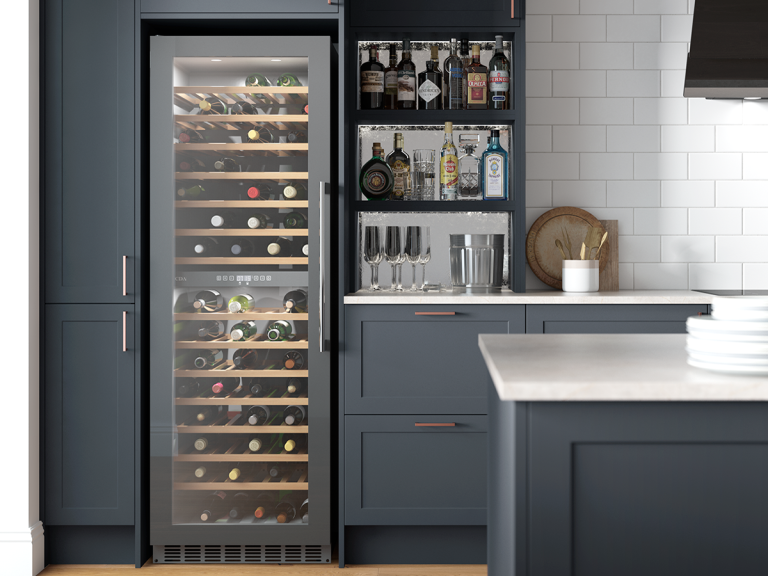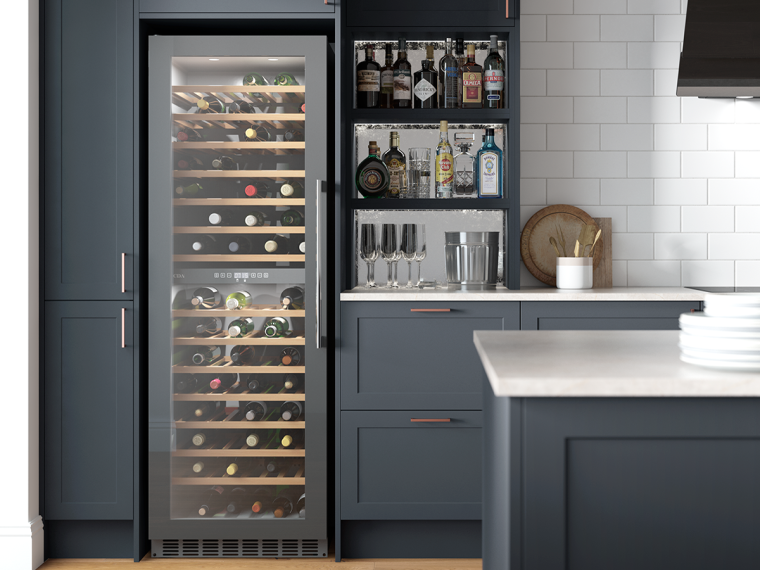 As discussed above, a wine fridge is a special type of beverage fridge that is designed specifically for storing drinks. Kalamera, hOmeLabs, Danby, and EdgeStar are some of the top brands; you can check out some other brands in Reviews.Guide. They are different from traditional refrigerators in a few key ways:
Wine fridges are typically smaller than traditional refrigerators and can be freestanding or built-in, making them more energy-efficient.
They maintain a consistent temperature, which is important for preserving the quality of the wine.
They come with features like humidity control and UV protection, which further protect the quality.
There are different reasons to own a wine fridge; the most important reason is to preserve the quality of your drink collection. If you are a serious wine collector, or even if you enjoy drinking occasionally, It is a great way to protect your investment, and it's important to know how many watts the fridge consumes to make your investment worthy enough to keep your wine in the best condition possible.
Another reason to own a wine fridge is convenience. Many people find it more convenient to store their collection in a dedicated fridge than in their kitchen refrigerator.
Difference Between Built-In And Freestanding Wine Fridge
Both have their own set of pros and cons that you should consider before making a purchase. The built-in fridges are designed to be installed into existing cabinets or countertops. They are more expensive than freestanding models, but they offer a more seamless look and take up less space.
The freestanding fridges can be placed anywhere in your home, making them a versatile option. They are typically less expensive than built-in models, and they are portable and can be moved to any place of your requirement. However, they are not as sleek-looking as built-in ones and can take up more space.
Things To Consider While Purchasing A Freestanding Wine Fridge
Below mentioned points will help you make your purchasing decision more streamlined –
Drink collection and capacity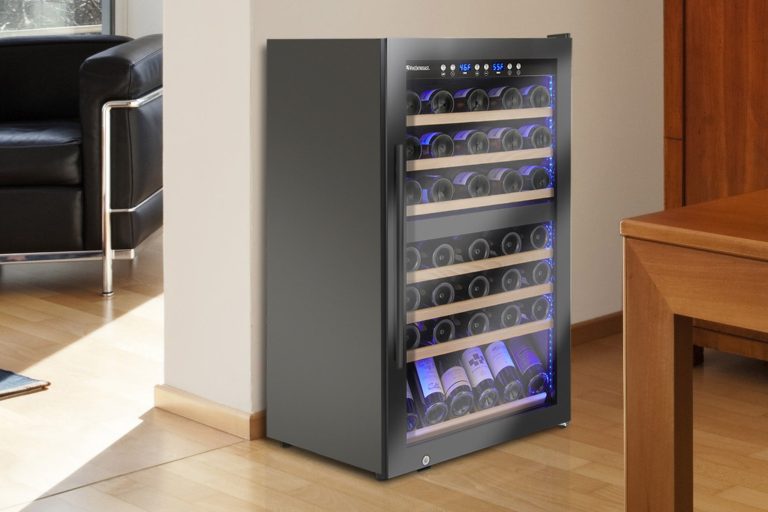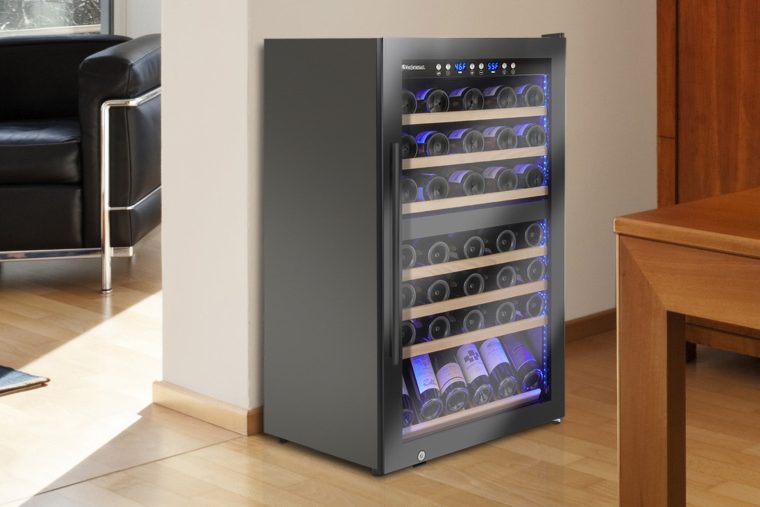 One of the key things you need to keep in mind while purchasing a freestanding fridge is your collection. Depending on the count of bottles you own, you will need to select an appropriately sized refrigerator. It is important to buy the one with some extra space as your collection will likely grow over time. Along with the bottle count, you also need to consider the size of the bottle, which will help you have a proper idea of how much capacity a refrigerator you need for your home.
The placement of your fridge is also an important consideration. It should be placed in an area of the home that is temperature-controlled and away from direct sunlight or any other heat or light source, as sunlight is the major enemy for wines. Vibration can also damage them, so the refrigerator should be placed on a stable surface or purchase one that comes with a top-quality compressor, limiting the vibration level and reducing the noise level of the refrigerator.
Another important factor to consider is humidity. According to some studies, wine needs to be stored in an environment with consistent humidity levels to stay fresh. Too much and too little moisture may spoil it.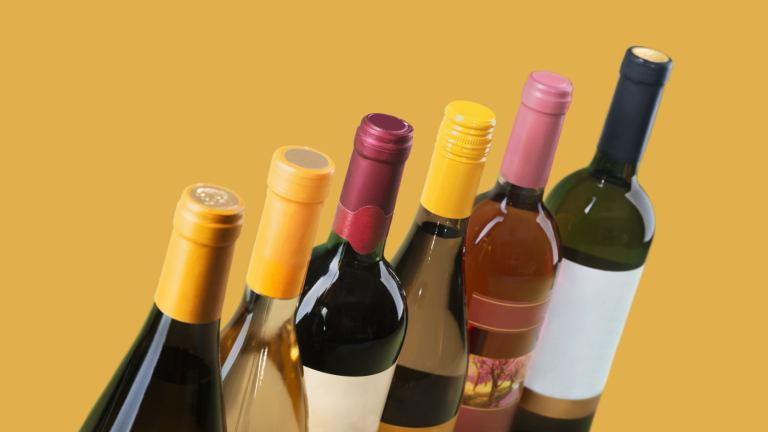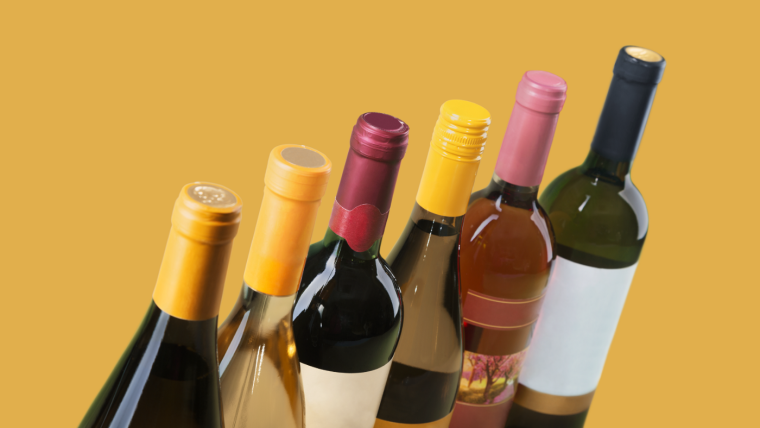 The type of wine you plan on storing in your refrigerator is also an important consideration. Some need to be stored at a higher temperature than others. For example, red ones are typically stored at a higher temperature than white and Champagne.
While purchasing a freestanding fridge, an important feature that you should consider is a convertible freezer. It is a great option if you want to use the refrigerator for long-term drink storage or if you live in a warmer climate. These come with a separate temperature control system for the freezer, so you can easily store ice cream and other frozen items without damaging your drink collection.
Last but not least, you need to consider your budget when purchasing a refrigerator. There is a wide range of prices for these collections on the market that comes with various useful features that will keep your collection safe for a long time, so it is important to find one freestanding fridge that fits your needs and budget.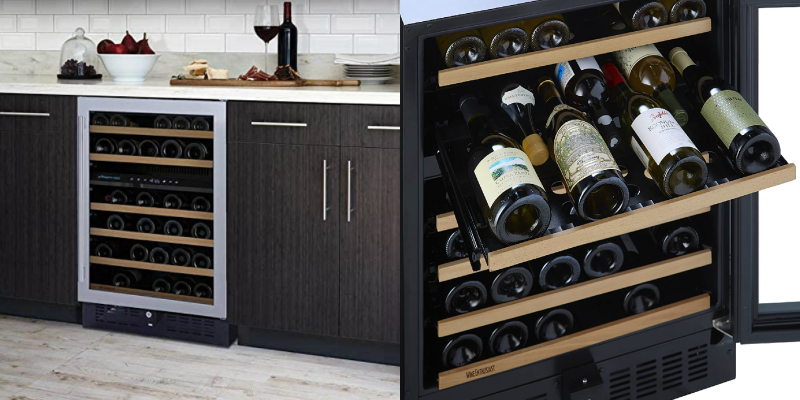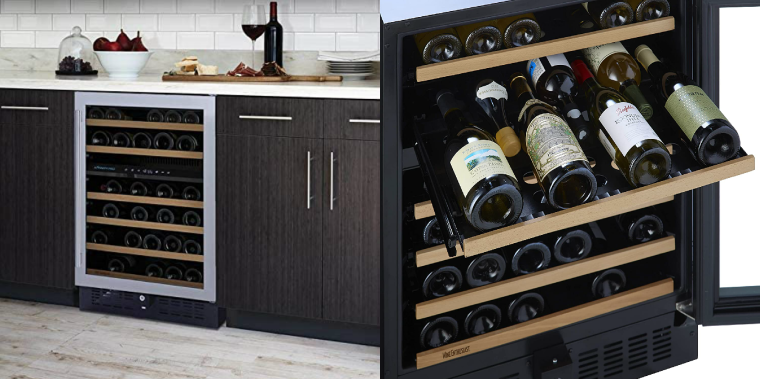 Some of the additional features that you might want to consider include adjustable feet, an energy-saving mode, anti-UV glass, and a lock. Adjustable feet will help you adjust the height of the refrigerator according to your requirements. Plus, a refrigerator which comes with an energy-saving mode will help you save on electricity bills. The anti-UV glass will help protect your drink collection from the sun's harmful rays. And a lock will keep your drink collection safe and secure.
Conclusion
In this article, we have discussed what wine fridges are and how they are different from regular ones. Further, we listed down a few key factors to consider while purchasing a freestanding refrigerator. Apart from these factors, it is also recommended to look for other features like energy efficiency, temperature control, etc. Along with the above-discussed points, you should also do your research by visiting multiple websites and eCommerce sites and go through numerous customer ratings, which will help you streamline your choices and eventually save your hard-earned money.