Introduction
Food is love. Most of the people love to try new dishes from new cuisines so that they can explore their interest of flavours and taste.
This is much suited for the foodies out there like me. I love cooking and eating new dishes.
And that's the reason why we are here together.
While cooking new dishes, it becomes important to have access to the ingredients needed to cook a particular dish and also our will to use a particular ingredient. This brings us to the dish in consideration today i.e. Risotto.
To brief you about the point in consideration, this article will be considering and answering the aspect of whether Wine is an important ingredient in Risotto or can anything else be used instead of wine. So, let's delve into more detail and answer the question How to make Risotto without Wine?
Traditionally, white wine and chicken stock is used to cook Risotto.
Wine adds some needed balance and acidity to the dish.
Though the wine cooks off in the process of making Risotto. However, 1-3 tablespoons of white wine vinegar can work as a great substitute to the wine for those who do not have it or do not want to use it in the dish.
Having a great, complete, and fully-equipped kitchen, as well as the supplies required to create a certain dish, and the desire to employ a particular item, is convenient for preparing novel meals.
Now, before exploring more details about the alternative method of use of wine in Risotto, let's first know about what Risotto is.
What is Risotto?
Risotto is a traditional Italian dish made with arborio rice. This rice is allowed to cook in a combination of white wine and stock until it gets tender, creamy, and al dente.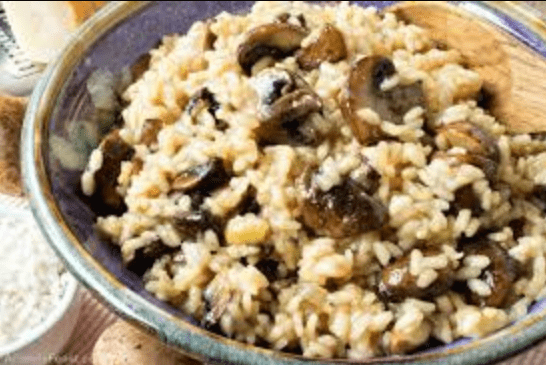 You can experiment this dish by adding the variety of ingredients. Over the years, I have made experiments with the following ingredients.
Fresh porcini mushrooms
Asparagus
Freshly grated parmesan
Truffle oil
Mussels
Risotto is definitely one of those dishes which most of you would like it. It's creamy and the rice is tender, but not mushy. The flavours are the best as it meld together well with the rice as we just add it at the time of boiling the rice so that the flavours get enough time to absorb.
Now, let's look at the question of whether wine is necessary to make Risotto or can be avoided.
Is Wine necessary for Risotto?
Though the wine provides a balance to this dish along with some flavour and an element of acidity, however, wine isn't necessary for Risotto. The other substitutes can also be used in place of wine and can still make a delicious Risotto. Just using 1-2 tablespoons of white wine vinegar to the dish would add an element of acidity and would make it taste as amazing even without using the wine.
Now, let's answer the question that can you use White wine vinegar instead of Wine.
Can you use White Wine Vinegar in Risotto?
The simple answer to this would be NO. This is because no matter whether its made from wine or not, the ingredient under consideration is Vinegar which is extremely acidic. Thus, as compared to wine which has a nice balanced acidity, Vinegar used in the same quantity as wine would be the spoiler as it would make the food extremely acidic and thus, should not be used. Thus, only 1-2 tablespoon would be enough to make for the lack of wine in it.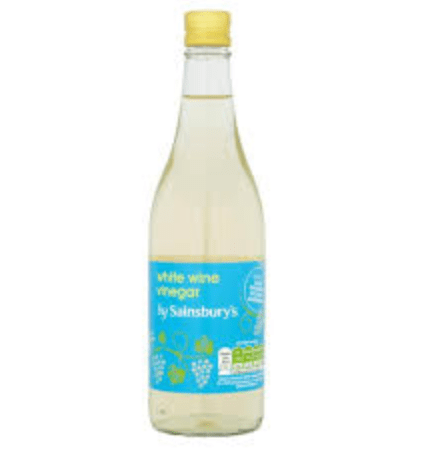 Now, the question which one might have is that what are the items which can be used as a substitute instead of wine.
So, what are we waiting for…let's answer it!
What can you use instead of Wine in Risotto?
The cornerstones of the flavours in Risotto are as follows:
Creaminess –
It comes from the starch in the rice or any freshly grated parmesan can also be added.
Acidity –
It usually comes from the wine.
Richness –
It comes from the stock we usually add throughout the cooking process while making this dish.
Thus, if you are learning how to make Risotto without the wine, following will be the process.
Traditionally, you would be using chicken stock to cook Risotto. It would be added in small amounts after you sau·té the rice in oil or butter. You can also opt for the vegetarian stock if the one who is going to eat it prefers a vegetarian diet.
I would probably steer clear of beef broth due to it's heavier nature unless the other ingredients would be especially complimented by that flavor.
As a substitute of wine, it just calls for the small amount of liquid which can add the element of acidity which is not there in it because of the lack of wine.
Thus, a 1-2 tablespoons of white wine vinegar would completely the dish by adding the required element of acidity.
Can I substitute red wine with white wine in Risotto?
In short, the answer for this is Yes.
Wine is used in making the Risotto to impart flavour and a hint of acidity into the rice. It is typically the 1st step after sautéing the rice in oil or butter.
Red wine may make for a darker risotto, but it will still turn out to be delicious.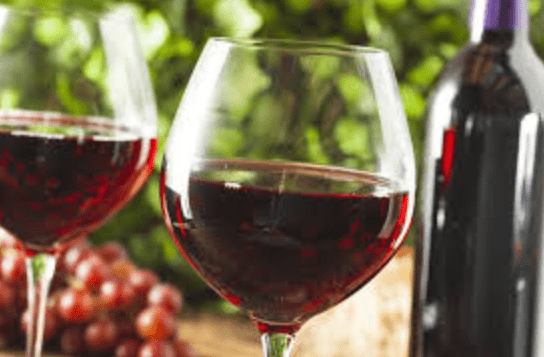 Do take care that you do not use super sweet wines (ie: sherry or most rosés).
They would tend to cloud the flavor of the risotto in a less-than-appetizing way.
So, to clarify your doubt, I would say any wine which is the "Cooking wine" can be used to make the Risotto.
The cooking wine would usually be cheap and oxidised wine with added salt.
You do not have to use those expensive bottles of wine but make sure you do not use super-cheap stuff either.
Carrying forward the idea of clearing the doubts related to cooking the Risotto, let's address yet another common doubt.
Do you cover Risotto while cooking?
The answer to this is a strict NO.
The cornerstone of this dish is to add stock little bit at a time and then stirring constantly to ensure that rice doesn't sticks at the bottom of the pan.
You need to add some more liquid once it gets absorbed and then needs to repeat the process again for around 20 minutes until the rice reaches its perfect texture.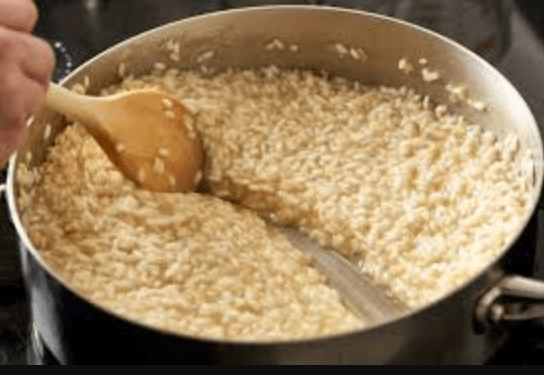 Thus, it's a strict no to covering the pot while cooking Risotto as it would prevent the stirring and would eventually lead to sticking of rice at the bottom of the pan.
Also, if you will add all the liquid at once, you would end up with a big pot of gruel rather than Risotto.
What can I use instead of Risotto Rice?
Arborio rice is traditionally what is used in Risotto. This rice is a short grain rice and is perfect for its starch content and rounded shape.
When cooked, it is more chewier than some other kinds of rice and this allows it to not turn to mush.
It might be harder at times to find the Arborio rice.
But I would not suggest you to use any kind of rice while making Risotto.
The alternatives which I would suggest instead of Arborio rice would be, most probably, even more harder to find but just to give you the names, I'll suggest the following two types of rice:
Those are both excellent medium-grain Italian kinds of rice with a great texture and starch level and would make an excellent risotto. In fact, some Italian chef's prefer these over arborio as they are actually higher in starch and retain texture better than arborio.
But since these would be even harder to find, I would suggest to opt for one of the following if you can find them.
Sushi Rice
Valencia
Bomba
Short grain white rice
Thus, go with the above stated options only while making Risotto. Otherwise, you are likely to end up with a bowl of mush and your family will wonder why you don't love them anymore.
Now, let's clear one more doubt before we move ahead towards concluding this article.
Can you use brown rice to make Risotto?
For this, if you would surf the internet for "brown rice risotto" recipes, you would find a lot of them. But if you ask for my opinion, using the brown rice in this recipe might turn out to be delicious but it won't be Risotto. So, if you wish to experiment, you surely can, but it won't retain the original sense of Risotto.
Brown rice is, without a doubt, more nutritious and contains both the bran and the germ, which are stripped away in making white rice.
Thus, brown rice has a lot more fiber and nutrition than white rice. It is also higher in several vitamins, minerals, and antioxidants than white rice.
But if your goal is to make a delicious, traditional risotto, it just doesn't work as the bran and germ tend to prevent the starch from getting released while it cooks.
Brown rice also takes substantially longer to cook as well.  In case you want to cook it faster on a quality cooker but lack the funds the purchase one, PaydayNow might be a perfect choice to fix it. This is an online platform that offers no credit check loans that can help you get the money you need when you need it most.
Plus, their easy loan advice can help you choose the perfect option for your needs. And if you need to borrow money for a longer-term project, they have options for you, too – from short-term loans to long-term loans.
Thus, go ahead with the use of white rice only and if you wish to add a nutrition value, maybe you can have a salad with it.
So, that's how the Risotto would work. I hope all your doubts regarding the Risotto are cleared.
With this we finally move towards the Conclusion of this article.
Conclusion
We can conclude this article by saying that wine is not a compulsory element in Risotto.
To fulfill the lack of acidity in the dish, you can add 1-2 Tablespoons of White wine vinegar and that would complete your dish as delicious as the wine would do.
Thus, you can surely enjoy a tasty Risotto without using wine to make it.